ProCredit Bank Offers New Service to Business Clients
Thursday, November 4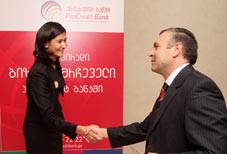 ProCredit Bank has been operating in Georgia for over 10 years. More than 300 000 happy clients as well as the general public know the bank as the House Bank for businesses, constantly striving to offer up-to-date services and products to small and medium-sized enterprises operating in all spheres of economy.
This time the bank offers its business clients a brand new service – Personal Business Advisor. Business advisor will provide clients with professional advice on all banking issues and will be their first point of contact at the bank.
ProCredit Bank clients can already use the service of business advisor, who will advise them on their business and personal financial needs. Business advisors will help the clients select suitable loans for their business, and advise on how to manage their company's accounts from their office and transfer their employees' salaries in just a few minutes. Besides, business advisors will assist the families of the business people in managing personal accounts and savings.
This service is totally free of charge for ProCredit Bank's business clients. The purpose of introducing this service was to make dealing with the bank even easier. Business people are always on the run, they never have time to review information about banking products and services while business advisors will save their time and clearly explain to the clients the benefits of the services they need. Services of business advisors are available to all business clients who are using various banking products.
A couple of weeks ago, ProCredit Bank hosted a reception for its business clients to introduce the new service, where the media were also invited. Georgian businessmen, clients of ProCredit Bank, had an opportunity to display their products at the reception. This was meant to let them become familiar with each other's products and establish new business links.
"Your loyalty and partnership is very important to us as we place a high value on the relationship we have with our clients. Many of you have been our client for years now and we would like to thank you for that. We aim to build and maintain long-term partnership with you, therefore, it is important for us to know that you are happy with our service. Business advisors will advise you on all banking issues you need not only for your business but also for your family," Maya Meredova, General Director of ProCredit Bank said.
ProCredit Bank will keep offering its clients interesting new products and services in the future as well.