Georgia's NATO hopes hindered by President, claims Burjanadze
By Gvantsa Gabekhadze
Thursday, November 4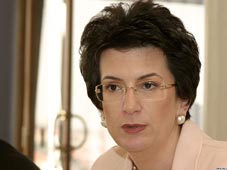 Georgia has lost its chance to participate in NATO, due to the current President of Georgia, Mikheil Saakashvili- leader of the oppositional Democratic Movement-United Georgia, Nino Burjanadze claimed on German Online media
Der Standard
, on November 3.
" I can not see Georgia as a member of the European Union for the following 20 years, as for NATO, Georgia has finally lost its chance to become an Alliance member country due to Saakashvili. However, it is my greatest desire for Georgia to have a close relationship with both organizations and I don't think that this would create obstacles for Georgian-Russian relations," Burjanadze said.
As the former Parliament speaker has mentioned in the frame of the present authorities, Georgia has lost the way of democratic development and she considers it her responsibility to change the present authority, "Unfortunately, the way of classical impeachment would not work, as the majority of the parliament will not support this. That is why my party wants to recall the national meetings from the regions. We would ask those people whether they want or don't want that president who has lost 20% of our territory. In the frame of the present authority, Georgia has lost its perspective of democratic development and I consider it my responsibility to do my best for the current president to be changed and answer for everything he has done, to the court," Burjanadze said.
However, Burjanadze states that the present authorities have made some achievements, "if there were no achievements I would not have stayed in the governmental team until 2008. For example, much has been done against corruption. Doctors, policemen and professors do not take bribes, however the corruption has become elite, meaning that significant projects can not be fulfilled without collaboration with powerful officials."
For the majority, Burjanadze is a destructive force and her statements are not considered as dangerous by them, "There are opposition leaders who say that relations with Russia are necessary but in order to have them we should submit to Russia thereby denying Georgian aspirations to become a full member of the international community. Nino Burjanadze and Zurab Noghaideli do not recognise that Russia has occupied the territories of Georgia and are trying to shift the blame for the aggression against the Georgian people. The fact that Georgia has chosen the right way of development is proved by the elections results and international public polls, "MP, Nugzar Tsiklauri told the Messenger.
As analyst Nika Chitadze told
The Messenger
, " I welcome strong oppositional factions in the country, as without them real democracy is less possible in Georgia, however I think that Burjanadze and Noghaideli ( leader of the oppositional Movement for Fair Georgia) are more destructive forces than those who are targeting positive changes in the country, " Chitadze said. According to analyst Irakli Sesiashvili, "There is no corruption at a lower level; at the present moment; however there certainly is elite corruption in the country."