Rasmussen reaffirms Bucharest Summit commitments
By Mzia Kupunia
Thursday, November 4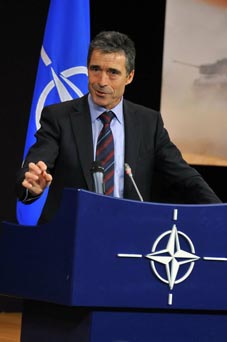 The offer of the allies on "clear perspective" of NATO membership to Georgia, made during the 2008 summit in Bucharest, remains in force, NATO Secretary General, Anders Fogh Rasmussen told Interfax news agency on Tuesday, ahead of his visit to Moscow on November 3. "Membership however depends on each candidate's Euro-Atlantic aspirations and to the extent to which it meets the required standards," Rasmussen added.
The NATO Secretary General named improving NATO-Russian relations as one of his "top priorities", saying that good relations between NATO nations and Russia "make for better security for all of us." "We can stop wasting resources on worrying about each other and start putting those resources into cooperation to make ourselves safer against the real threats we face: terrorism, instability and drugs from Afghanistan, ballistic missiles, piracy, etc," Rasmussen told Interfax "All NATO allies share my view. Which is why I believe that the NATO-Russia Council Summit in Lisbon can mark a true fresh start in our relations," he said.
Answering the question of the Russian journalist if NATO is ready to discuss the proposal of the Kremlin to sign a legally binding agreement on mutual military restraint, Rasmussen answered that in 1997 NATO made clear that it had "no intention, no plan and no reason" to deploy nuclear weapons on the territory of the new member states.
"The Alliance also stated that it would carry out its collective defense and other missions by ensuring the necessary interoperability, integration and capability for reinforcement rather than by additional permanent stationing of substantial combat forces. We have kept our word to the fullest," Rasmussen stated, adding that the Alliance shares Russia's desire for transparency about the numbers and movement of conventional forces in Europe. "That's why the NATO Allies have signed up to rejuvenate the Conventional Forces in Europe regime. Russia has also engaged in the talks now underway in Vienna, and I hope this will soon lead to an agreed framework of principles to guide future negotiations," NATO Secretary General noted.
Meanwhile officials in Moscow have expressed hopes that Russia will not be named as an "enemy" in the Alliance's new strategic concept. "As for the question if we have a feeling that NATO perceives Russia as an enemy, you know that we do not have such a feeling," Russian Foreign Minister, Sergey Lavrov told journalists on Monday "We expect that the strategic concept, which is due to be adopted on November 20, will give an unambiguous answer to this question," he added.
Authorities in Tbilisi have also stated their expectations of NATO's new strategic concept. "I hope that the issue of Georgia will be adequately expressed in the document adopted at Lisbon Summit of NATO," Georgian Parliament Speaker, Davit Bakradze said, adding that hopefully all commitments towards Georgia that NATO pledged during Bucharest Summit in 2008 will stay in force.
Reaffirming NATO's Bucharest Summit decision at Lisbon Summit is especially important for Georgia now, MP from the National Movement Party, Giorgi Kandelaki told
The Messenger
. "The communique adopted at Bucharest Summit referred to Georgia and Ukraine. Now you know that Ukraine has relinquished its aspirations for NATO membership. So it is important that NATO commitments toward Georgia are reaffirmed," he said. According to the MP, Georgia is "much more" ready for NATO membership now. "Georgia has advanced significantly in fulfilling Annual National Plan (ANP), which is an almost identical document as the Membership Action Plan (MAP). It means that we are more ready for joining NATO and that the skeptics will have fewer arguments against Georgia," he noted.