Round Table: "Europe in my City – Tbilisi Competitive Advantages"
Friday, November 5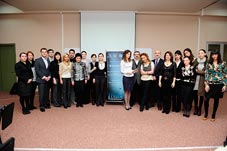 On November 4, 2010 Round Table: "Europe in My City – Tbilisi Competitive Advantages" took place in the capital of Georgia –Tbilisi. This was the first time that the city of Tbilisi had hosted the local event in the frames of European Open Days which has been organized every year since 2002 by the European Commission and the Committee of the Regions.
This year, Open Days 2010 features 260 local events: conferences, cultural events, fairs and exhibitions - taking place across Europe and beyond its borders between September and November.
The event was organized by Tbilisi City Hall in cooperation with the EU Delegation to Georgia and the State Ministry of Georgia on European and Euro-Atlantic Integration.
The opening session was chaired by Mr. Zviad Archuadze - head of Economic Policy Agency, Tbilisi City Hall.
Round Table involved students from different universities operating in Tbilisi. The leading theme of the discussion was "Competitiveness". Participants were given the opportunity to join productive and cooperative discussion at the round table. The presenters concentrated on the following issues: Vision of Tbilisi as a part of Europe; Finding niche of Tbilisi at international arena; Defining competitors/partners of Tbilisi City.
Participants made presentations for the audience which comprised of the representatives from Tbilisi City Hall, State Ministry of Georgia on European and Euro-Atlantic Integration, and the EU Delegation to Georgia.
The concluding part of the event was the awarding ceremony of certificates by Tbilisi City Hall.