Shares in Poti Port to be made available
By Gvantsa Gabekhadze
Friday, November 5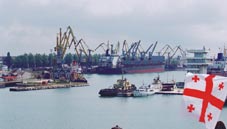 A certain amount of stocks in Poti Port will be floated on the European stock exchange in 2011. Information concerning the issue was confirmed by Poti Port's current owner, Arabian RAK Investment Authority( RAKIA) and the Minister of Economy and Sustainable Development of Georgia, Vera Kobalia, on November 4.
RAKIA purchased the controlling stake in Georgia's Black Sea port of Poti in April, 2008 for USD 90 million and launched development of a free industrial zone on 300 hectares of land in Poti. Later in the same year, RAKIA bought from the state the remaining 49% of Poti port for USD 65 million.
"RAKIA has a right to sell its stocks. The company representatives have several times mentioned that Poti Port was profitable for them and had yielded a substantial return. Chinese and Indian companies are interested in purchasing the stocks of the port. I am sure the company will receive a serious profit from making its stocks available on the international market, " Kobalia said.
RAKIA's chief executive Khater Massaad stated: "Our investments abroad are strategic and solely for the purpose of bringing in more revenues to support developments in RAK. We have invested in the port of Poti in Georgia but the amount invested is only $85 million (Dh312m), which includes an industrial free zone. The Poti port is a very attractive investment, because nearby countries have no access to the sea and it is the only major port in Georgia - so it is a profit-making venture. We have invested in it to compliment the RAK Industrial Free Zone to cater to the Commonwealth of Independent States countries (former Soviet republics). We have four million square metres of land as free zone," Massaad stated.
Information has also been delivered by RAK Georgia's spokesperson, Sopho Mamardashvili, "We talked about selling the Poti Port stocks in the summer and a certain part of the stocks will definitely be put on the stock exchange, however not the controlling share. The exact number of stocks which will be sold, will be known later, at the present moment I can not give such information, "Mamardashvili said.