Opposition Leader takes UN Security Council job
By Etuna Tsotniashvili
Friday, November 12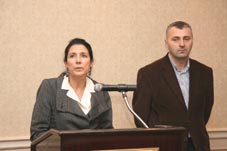 Leader of The Georgian Way, Salome Zourabichvili is to take time out from politics and move into the newly founded commission on political and economic sanctions on Iran, founded by the UN Security Council.
At a special briefing held yesterday evening Zourabichvili stated that the main reason for her decision was the absence of democracy in the country making the opposition's existence nowadays impossible in Georgia. Zourabichvili promised that this is only a break and she will return to Georgian politics when the right time comes.
"There isn't even a minimum level of democracy in the country crucial for the opposition's existence. Under such conditions to be a member of the opposition means to participate in the authorities' illusions and lies. I cannot imagine continuing political activity in such situation. I will return in this country when the right time comes," Zourabichvili stated.
As for the commission itself, according to Zourabichvili, she received an offer to become in charge of this issue from the UNSC and it is acceptable to her because today Iran is one of the most important issues worldwide. "I am interested in the Iran issue. This is a UN Security Council commission which has been founded recently and we will work on sanctions against Iran," she said.
"I am leaving for now but I will be back. Anyone who enjoyed my decision maybe will not enjoy my return. But this time will come. Now it is time to go," she added.
The Georgian Way will continue its activity and its new leader will be Kakha Seturidze.
The President of Georgia, Mikheil Saakashvili introduced Salome Zurabishvili to Georgian society in 2003. Zurabishvili was the Ambassador of France to Georgia in 2003-2004. In March 2004, Zurabishvili was appointed as Minister of Foreign Affairs of Georgia by Mikheil Saakashvili. The President granted her Georgian citizenship on 20 March. Saakashvili said the issue was discussed with the then President of France, Jacques Chirac and Foreign Minister Domenic de Villepin.
Salome Zurabishvili held the position of Minister of Foreign Affairs until October 2005. Former Prime Minister of Georgia, Zurab Noghaideli dismissed her on October 19th, following which Zurabishvili established the opposition party 'Georgian Way' in 2006.
Before coming to Georgia, Zurabishvili worked in Rome, Washington, Vienna, Republic of Chad, Brussels and Paris, and diplomatic representations of Paris. She was the second secretary in the permanent mission of France to the United Nations in 1977-1980.
Salome Zurabishviil was born in Paris, into a family of Georgian emigrants. She is descendent of the Georgian public figure, Niko Nikoladze.