Launch of "The Caucasus" at Prospero's Books
By Etuna Tsotniashvili
Monday, November 15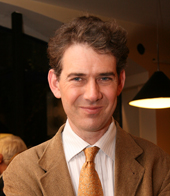 On November 12, Prospero's Books hosted the presentation of a new book, "The Caucasus" by journalist Thomas de Waal. The familiar author says he is very interested in Caucasus and in love with the region despite the many many problems that exist here. "It is a complex region and it would be great for English speaking people to have an introduction to this region," says the author.
Thomas de Waal makes the case that while the Caucasus is often treated as a sub-plot in the history of Russia, or as a mere gateway to Asia, the five-day war in Georgia, which flared into a major international crisis in 2008, proves that this is still a combustible region, whose inner dynamics and history deserve a much more complex appreciation from the wider world.
The author came to Tbilisi when he was a student in 1984, but began studying and covering this region in 1992. For many years he studied the region's conflicts and one of his books, the highly acclaimed Black Garden, he dedicated to the Karabakh conflict. While writing he spent some time with IDPs in order to become familiar with the problems they faced as well as the conditions and situations there. "These people have a right to return back, but on the other hand we have to be pragmatic and we should not keep these people in the eternal waiting room, they should also carry on living and they should be full citizens of the society where they live. Sometimes there is an attempt by authorities to use IDPs as a political instrument and I think it is important to remember that they are people as well and of course we want them to see how they will return to their homes," the author told
The Messenger
. In the book, the author offers a compelling account of the Rose Revolution in Georgia, the rise of Mikheil Saakashvili, and the August 2008 war.
Thomas de Waal says Georgia needs patience and development for territorial integrity. "Georgia needs patience and better concentration on the country's development process. It should be a stable, attractive state and rich. It should strive towards the EU." As for Russia he says that although it is a very important player in this conflict, Russia's role can and could have been reduced by direct talks between Georgian and Abkhazians as well as South Ossetians. "I think that if the Georgian side spent more effort to talk with the Abkhazians and South Ossetian people directly, face to face, it would have reduced Russia's role in this conflict because Abkhazia and South Ossetia look Russia to protect them but Georgia is an important neighbour and they also know very well that they cannot live without Georgia!" Thomas de Waal told
The Messenger
.
Oliver Reisner, a historian of Georgian history, welcomed the publication of the new book on the Caucasus region, saying it would be very good for English speaking audience, to introduce Georgia and Caucasus region better.
"The author tries to broaden the view of the Caucasus beyond the focus of geopolitics and conflicts and it is a way to open new concept of perception to non Caucasia audience, to western English speaking audience. There are not many books about the Caucasus and Georgia. When I started to deal with Caucasian issues there was almost nothing to available, all the books were Russian. Now there are plenty of new publications, introductions for students and this is very important," Reisner commented to
The Messenger
.