Georgia's Lisbon Hopes
By Gvantsa Gabekhadze
Wednesday, November 17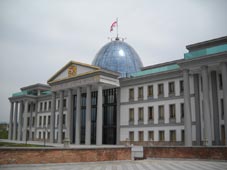 Georgia hopes that the NATO leaders' summit in Lisbon on November 19-20 will reiterate its decision taken in 2008 in Bucharest that Georgia will one day join the alliance, said the Georgian President's spokesperson, Manana Manjgaladze on November 16.
During the summit in Bucharest in April 2008, after heated debate, NATO leaders refused to grant the Membership Action Plan (MAP) to Georgia, a precursor to eventual accession to the Alliance; NATO leaders, however, stated that Georgia would become a NATO member sometime in the future. During his visit to Tbilisi on October 1, NATO Secretary General, Anders Fogh Rasmussen said he expected that upcoming summit in Lisbon would reiterate the decision of the 2008 Bucharest summit that Georgia will one day become a member of the alliance once Georgian fulfils the necessary criteria.
"We hope that the Lisbon summit will reiterate its commitment to the Bucharest summit decisions as well as reiterate that Georgia is moving successfully along the path of NATO integration," Manjgaladze, said.
The Georgian authorities are also hopeful that the terms 'occupation' and 'ethnic-cleansing' will be reflected in the resolution of the NATO Parliamentary Assembly. The Minister of Reintegration, Temur Iakobashvili said, "Confirmation of the terms and their reflection in the resolution would enable us to move forward on the non recognition policy successfully to other nations."
The Georgian opposition Labour Party plans to hold a protest in front of the newly opened NATO liaison office in Tbilisi on the opening day of the Lisbon Summit according to a statement made by one of the leaders of the party, Nestan Kirtadze for The Messenger. "This summit will yield no result for Georgia. Mainly international issues will be discussed. On the opening day of the Lisbon summit, the Labour party will protest in front of the NATO liaison office, demanding that NATO member countries discuss Georgian soldiers' participation in the peace missions. 1000 Georgian soldiers have been sent, of whom 750 are serving in Helmand province – one of the most dangerous and difficult areas in Afghanistan. This happens even when most NATO member countries send only units of 100 men. If we are unable to stop sending Georgian soldiers there, it is essential we reduce the number to 100. This is the demand not only of our party; it is the demand of Georgia. I must point out that the number of soldiers sent to peace missions is voluntary and is up to the President. We will do our best to block such individual and unacceptable decisions of Saakashvili," Kitradze stated.
Analyst Soso Tsiskarishvili told
The Messenger
, "Based on the present situation, Georgia has already got as much as it is going to get, that is – an invitation to the summit. This is because Georgia has not fulfilled the main demands of the organisation: fair and impartial courts and a level of democracy close to NATO standards. At the summit we can expect praise for our participation in the peace missions, condolences for our killed soldiers and a promise that Georgia will be a NATO member when it fulfils the Alliance's standards. However, from year to year the present authority refrains from changes to the legal system. Fooling NATO is difficult and even if the whole of Georgia were to participate in the peacekeeping operations, Georgia will not be able to enter NATO until it meets the Alliance's demands and standards."
Analyst Ramaz Sakvarelidze told
The Messenger
, "NATO will reiterate its decision taken in 2008 in Bucharest and express readiness to receive Georgia into its fold. That is the most important outcome I expect from the summit."