Japan supports 2 more aid projects
Monday, November 22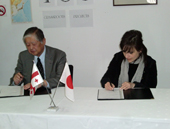 On November 19 the Signing Ceremony for the following two projects within the framework of the "Grant Assistance for Grassroots and Human Security Projects" was held at the Embassy of Japan to Georgia.
(1) Project for Improvement of Farmers' Cooperative in Mikava Village of
Tsalenjikha District (Project scale: USD 82,952)
(2) Project for the Establishment of a Care Centre in Ozurgeti City of Ozurgeti
District (Project scale: USD 99,725)
The Ceremony was attended by H.E. Mr. Masayoshi Kamohara, Ambassador Extraordinary and Plenipotentiary of Japan to Georgia, and representatives of the Georgian Ministries related to the projects.
The grant contract of the above-mentioned projects will be concluded between the Embassy of Japan and Tsalenjikha Municipality as well as the NGO Young Pedagogues' Union of Ozurgeti. The first project aims at improving agriculture in Tsalenjikha district through providing essential agricultural machinery, while the second project aims to support socially unprotected elderly people in Guria Region.
The "Grant Assistance for Grassroots and Human Security Project" (GGP) provides assistance to relatively small projects implemented by municipalities, medical and academic institutions, as well as NGOs and aims to improve the living standards of Georgian people. There are projects in the fields of public health, medicine, education, social protection, the environment and poverty reduction. Since 1998, one hundred GGP projects have been implemented in Georgia totaling USD 7,505,949.
The size of Japan's Official Development Assistance to Georgia has exceeded USD 361 million, covering a wide range of areas such as improving of economic infrastructure, agricultural and social sectors, culture and human resource development.