Several meetings for Saakashvili during the Lisbon Summit
By Gvantsa Gabekhadze
Monday, November 22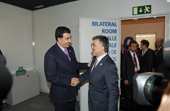 The President of Georgia held bilateral meetings during the NATO Summit in Lisbon. Mikheil Saakashvili held tete-a-tete meetings with his Romanian and Polish counterparts Traian Basescu and Bronislaw Komorowski. The leaders once again stated that they support Georgia in the process of European integration. Bronislaw Komorowski stated that Poland still maintains traditional relationships that were established over the past years between the two countries.
Mikheil Saakashvili met the UK Prime Minister David Cameron and the Prime Minister of the Kingdom of the Netherlands, Mark Rutte. The parties discussed deepening bilateral relations and cooperation. During these meetings, the leaders expressed their full support of our country's territorial integrity and sovereignty and noted that they welcome Georgia's North-Atlantic Alliance aspirations.
Strengthening partnership relations and integration into European structures were the major issues discussed during the bilateral meetings between Mikheil Saakashvili and world leaders of various countries in Lisbon. Yesterday evening the Georgian President of Georgia also met with the President of Turkey Abdullah Gul. The main topic of discussion was the support of peace and security in the region and deepening partnership relations. The sides also discussed the simplification of transportation mechanisms between the two countries in order to support Georgia's tourism potential. Abdullah Gul pointed out the ongoing construction process of Batumi and stressed the strategic importance of the railway. The possibilities of eliminating bureaucratic barriers on Georgian wines in Turkey were also discussed.
The Georgian leader also met Czech Prime Minister Petr Necas. Mikheil Saakashvili expressed his gratitude to the Czech side for their active support that was expressed in the NATO strategic document regarding Georgia. The Czech Prime Minister reaffirmed his support for Georgia on its way to European integration.
Strengthening future relations was the man issue discussed between the President of Georgia Mikheil Saakashvili and the Prime Minister of Australia Julia Gillard.