Saakashvili statement puts Russia in awkward position
By Gvantsa Gabekhadze
Thursday, November 25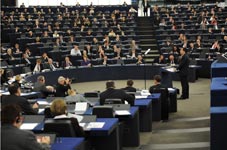 The Georgian Foreign Ministry hopes that the new peace initiatives voiced by the Georgian president at the European Parliament on November 23 will be the beginning of constructive dialogue between Georgia and Russia, and a statement concerning the issue was made by Deputy Foreign Minister, Nino Kalandadze, on November 24.
As the President Mokheil Saakashvili mentioned in his speech at the European Parliament, the Georgian side is prepared to even make a unilateral international obligation regarding non-use of force in the process of conflict resolution and states that the country is ready for dialogue with Russia.
"We hope that the statement will be correctly understood by the international community and Russia as well and it will be a good reason for beginning a new constructive dialogue, "Kalandadze said.
From the international viewpoint one more special statement has been released regarding Georgia by the European Union member states. The fourth article of the statement says that the European Union welcomes more intensive involvement on the ground in the implementation of the six-point plan of IDPs` repatriation drafted by the EU Commissioner for Human Rights, Thomas Hammarberg. The EU member states also call upon the Council of Europe to intensify cooperation with all sides involved in the conflict in order to provide monitoring across the whole territory of Georgia.
As for the Russians' attitude regarding Saakashvili's statements, Russian officials do not believe the Georgian president's words , however Russian analysts point out that with this step from Saakashvili, Russia would find itself in an awkward situation, " I don't believe in Saakashvili and his words as he has not fulfilled his words regarding Abkhazia and South Ossetia. I would believe in him, if he would recognize his mistakes. As for the initiative, it should be reflected in juridical documents, "Chair of International Committee of Russian Duma, Konstantin Kosachov, said. As for the Russian Analyst, Andrei Piotkovski., "After this step, the Georgian President has put the Kremlin in a very awkward situation in the event that Russia refuses dialogue."
As analyst Nika Chitadze told
The Messenger
, "The fact that Georgian side tries to reduce threats from the Russian side is an acceptable step. There is no alternative to dialogue. However, I think that the de occupation of the country can be discussed only in the long term. I am doubtful that Russia would enter into dialogue, as Russia blames the Georgian side for starting the war and it would try to justify its actions in August 2008 rather than sit around the table with Georgian authorities.
Accorsing to analyst Soso Tsintsadze, Saakashvili's suggestion would put Medvedev in a very difficult situation, "When in the 21st century, the leader of such a big country as Russia, refuses dialogue, it would not reflect positively on its international image. In this case, international distrust would increase towards them. Medvedev might be eager to start dialogue; however there is the Putin factor, who will be really furious at the prospect of launching dialogue and that would create a serious obstacle for collaboration. Russia is trying to deepen its relations with the European Union and refusal on dialogue with Georgia would not help their cause."