World-famous Poogie Bell set to jazz up Tbilisi
By Diana Dundua
Thursday, November 25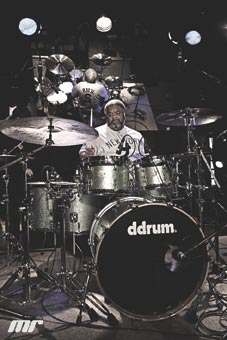 A month on from the 13th International Jazz Festival in Tbilisi from October 27 till October 30, the capital of Georgia continues jazzing and invites Georgian jazz fans to celebrate a 5-month jazz season, with 1 concert every month, starting from December 2.
It is being organized by Eastern Promotion and Tbilisi Event Hall, supported by numerous media partners including
The Messenger
, sponsored and presented by the Bank of Georgia and its exclusive personal banking SOLO.
This is not the first case in which the Bank of Georgia has supported such events; this year it also sponsored a 4-month jazz season in winter/spring, the 4th Black Sea Jazz Festival in Batumi and the 13th Tbilisi International Jazz Festival.
"We are more than happy to be the sponsors of the main musical events taking place in the country. This gives the Georgian jazz fans a chance to see real jazz legends on the stage and experience high quality performances. With our support and special offers, we do our best to give an opportunity to as many people as possible to attend the concerts. Together with numerous surprises, our special offers include exclusive prices on concert tickets." - Sophie Balavadze, Brand Executive of the jazz season sponsor general the Bank of Georgia told
The Messenger
.
According to her, the Bank of Georgia is looking forward to the jazz season starting in December and also invites everyone to the 5th Black Sea Jazz Festival taking place in Batumi in the summer of 2011.
Poogie Bell, the world-famous drummer, performer, record producer, composer and arranger and his band will open the jazz season in Tbilisi on December 2 of 2010. He has worked with many the most popular musicians including Marcus Miller, Stanly Clarke, Al Jarreau, Randy Crawford etc.
A Grammy nominee, Poogie Bell is an accomplished musician, whose drumming can be heard on some of the finest jazz, R&B and hip-hop albums the world has to offer.
The concerts will take place at Tbilisi Event Hall starting at 8 p.m. The exact dates for the forthcoming 4 concerts are not specified as yet, though the tickets for the December 2 concert are already available at a cost of GEL 60 at the Tbilisi Concert Hall box offices. There is also a special discount for the Bank of Georgia and American Express card holders, for whom tickets will be 15% cheaper.