Chochiev writes to Geneva Talks co-Chair
By Mzia Kupunia
Monday, November 29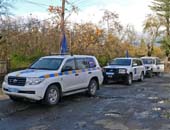 The de facto Tskhinvali authorities have claimed that the "incidents in the EU Monitoring Mission zone of control might "hinder the normal work" of the demarcation works being conducted by the de facto officials along the administrative border line between Georgia and its breakaway region of South Ossetia.
In a letter to the co-Chair of the Geneva talks, Pierre Morel, Boris Chochiev, the de facto Special Representative of the so called South Ossetian President in Post Conflict Regulation Issues wrote that the Georgian side refused to work jointly on the delimitation and demarcation of the "state border," Osinform news agency reported on Saturday.
"So the South Ossetian side started the works unilaterally," Chochiev wrote in his letter. "However there are several problems which hinder the normal work of demarcation activities," he added. In particular he claimed that on November 25 in the village of Ditsi the de facto South Ossetian specialists were holding typographical shootings of the southern part of the "state border" and in the presence of the EU monitors a "misunderstanding" took place from the Georgian side. "It could have led to serious incidents," Chochiev stated, without specifying what exactly happened at the administrative border. In his letter Chochiev has requested Pierre Morel inform the EU Monitors and the Georgian population living close to the administrative border line in order to "avoid any incidents."
Previously, on November 26 the EU Monitoring Mission in Georgia expressed its concern over the demarcation works along the administrative border between Georgia and the breakaway South Ossetia. "On November 25 an EU Monitoring Mission patrol observed seven Russian and South Ossetian armed personnel accompanying three South Ossetian civilians performing measuring activities on the ground along the administrative boundary line, close to the village of Ditsi," EUMM reported.
According to the EU monitors, this is not the first time that such measuring activity has been reported. "The Mission has increasing indications that this is part of a broader policy of unilateral border demarcation. The EUMM is concerned about these "border demarcation works", as they are incompatible with the principle of Georgian territorial integrity, which is fully supported by the European Union," the EUMM statement reads.
Georgian officials have said that the demarcation works conducted by the de facto South Ossetian authorities are "illegal." Georgian Interior Ministry first reported on the "border demarcation works" on September 29, 2010, saying that "such behaviour by Russian occupational forces is a clear provocation which will further limit free movement in the region for the local population."