Tbilisi Fashion Week successful
By Tato Gachechiladze
Tuesday, November 30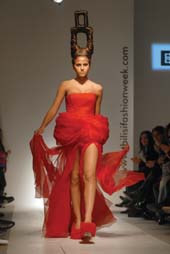 Tbilisi Fashion Week was held 20-24 November at Grato Passage, a luxury new complex and the Radisson Blu Iveria Hotel (showrooms and accessories exhibition).
Spring-Summer 2011 fashion collections were presented by a mix of both famous Georgian designers and newcomers.
Tbilisi Fashion Week is the initiative of GeoModels, a Georgian modeling agency, and Georgian Events, a major events management company. Supporting the event was Amarta, a glossy magazine, the consultancy company - Branding.ge, and Gabunia & Partners Solicitors.
The first Tbilisi Fashion Week was held in May this year, giving Georgian designers the opportunity to present their Fall-Winter collections. In May, TFW had the honor of welcoming the world famous Italian designer – Roberto Cavalli.
Reporters from around the world were invited to last week's show, together with fashion professionals from France, Italy, Estonia, Ukraine, Belarus, Azerbaijan and Kazakhstan.
The following designers presented their collections during Tbilisi Fashion Week:
Tamuna Ingorokva, Atelie 10A, Nino Chubinishvili, Fashion house "Materia", Salon Atare, Manana Antelidze, Nino Abesadze, George Shagashvili, Datuna Sulikashvili, Marika Kenchadze, Bicholla, Golla Zumbulidze, Ana Changiani and Tamriko Nadiradze, Gvanca Janashia, Salome Amanatishvili, Lika Aladashvili, Nino Kacharava, Mura-Mosso (Merab Kuparadze)
20 young designers also took part in the event; their work was highly evaluated by the members of the jury and fashion professionals.
The mission of Tbilisi Fashion Week is to reveal new, interesting faces, and create a regional platform for the development of the Georgian fashion industry and its popularisation abroad.