Ambassadorial Changes afoot
By Gvantsa Gabekhadze
Tuesday, November 30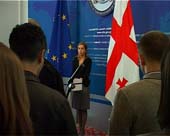 Georgia hopes that its conflict issues will be adequately assessed in the OSCE security document adopted in Astana on December 1-2, stated Deputy Foreign Minister, Nino Kalandadze November 29. She pointed out that Georgian President Mikheil Saakashvili will participate in the summit.
"As that OSCE member country is our opponent, the adoption of a profitable document for Georgia will be difficult. However we are hopeful and the delegation that we have sent is working actively for a satisfactory outcome. The President of Georgia, Mikheil Saakashvili also plans to travel to Astana, provided nothing unexpected happens." Kalandadze said.
The second important issue Kalandadze spoke about were the changes afoot in the Georgian diplomatic service; Georgia will appoint new ambassadors to some countries. "Otar Berdzenishvili will be Georgia's ambassador to Brazil, while Malkhaz Mikeladze will be posted to serve as the country's ambassador to Mexico. Both were previously employed in Georgia's Foreign Ministry. The new ambassador to Sweden will be Kote Kavtaradze, who previous served as Georgia's Ambassador to Poland; he will be replaced by Nikoloz Nikolozishvili, currently ambassador to Slovakia. Deputy Foreign Minister, Aleksandre Nalbandov will be posted to Slovakia as Georgia's new Ambassador. Zurab Chiaberashvili, Ambassador to the European Council, will be replaced by his deputy Mamuka Zhghenti and Chiaberashvili will be sent to Switzerland as Georgia's Ambassador; in Portugal the position will be taken by Goga Gorgiladze and Archil Dzuliashvili in Egypt," Kalandadze said. She added that the ambassadors will also change in Georgia's neighbouring countries. "Teimuraz Sharashenidze will be our Ambassador to Azerbaijan; he was our General Consul in Istanbul. Secretary of Constitution Commission, Tengiz Sharmanashvili will take the position in Armenia." The new ambassadors will be confirmed in the coming days by Parliament, as the president has already delivered the list to the legislative body.
Speaking to
The Messenger
about the OSCE summit, Labour Party representative, Nestan Kirtadze said that is most unlikely that there will be any adoption of a document profitable for Georgia and its occupied regions. "When the world's main political players are looking for how to collaborate in the long term collaboration, a task full of obstacles but strategically targeted already, the adoption of any anti-Russian document in the summit can be ruled out. There will be the same old rhetoric towards Georgia, that they support our sovereignty and territorial integrity and nothing more," Kirtadze said. She went on to give her opinion regarding the diplomatic structure, saying, "In Georgia ambassadors are selected according to their devotion towards the present authorities and unfortunately not taking their professionalism into consideration. Our ambassadors do not even manage to make contacts in those countries and actively launch their duties, only when they are removed or dismissed. We have a lot of emigrants in foreign countries who are completely abandoned by our embassies and consulates; they are only remembered during elections, when their votes are needed. Through your newspaper, I appeal to Georgia's main diplomat, Grigol Vashadze, to realise that the embassies should serve the public interests and not the interests of the authorities and their goals."
Analyst Nika Chitadze told
The Messenger
, "The fact that Georgian security issues will be discussed on the summit is important. I think that some compromise version of the document will be adopted, taking Russian interests into consideration, as Russia has the right of veto under OSCE rules. The document will once again show Russia's negative role in Georgian-Russian relations." The analyst also commented on the changes to the diplomatic corps, "There are some countries, for example, Ukraine, where we have had the same Ambassador for 8 years. Having one and the same ambassador in a post for such a long time, or too frequent changes of ambassadors are equally non beneficial for the country. I think that there are many non qualified personnel in the structure, which results in the necessary changes. And of course, protectionism is at work in the structure."