Saakashvili opens new school in Kakheti
By Mzia Kupunia
Tuesday, November 30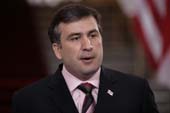 Georgian President, Mikheil Saakashvili opened a new public school in the village of Gavazi, Kvareli region on Monday. Speaking at the opening ceremony, Saakashvili said the Georgian government "meets its promises".
"Construction of schools continues in Georgia. Some people might think that we are only delivering promises, but it is not so. Despite the fact that we suffered a war recently and are currently under occupation, we worked out a plan for developing agriculture in the country and we are already implementing this plan in the village of Gavazi," the President said, adding that the water system rehabilitation works have already been completed.
"Now the village gets water in a much better way than it used to before. In addition we installed gas pipelines in the village and have also brought tractors," Saakashvili said in his speech. "And the crown of all of these is this school which the children would not have even been able to dream about," he stated, adding that the ruling party "always fulfills its statements, unlike some other [political] forces." Saakashvili presented personal computers to two of the school's most successful pupils.
According to officials, Gavazi public school will be able to receive more than 400 pupils. Construction of the new school building lasted 2 years and cost about GEL 4 million. The construction was funded by the Municipal Development Fund and the World Bank. As a result of the construction, studies started in October instead of September in Gavazi public school.
According to the director of the school, Paata Berashvili the pupils now have "excellent conditions" for their studies. "Natural sciences laboratories are operational, and the internet and heating system are working. All this gives children the opportunity not to be lazy and study successfully," radio Hereti quoted Berashvili as saying.