Late Drama as Dixon's Lelos Defeat Americans
Wednesday, December 1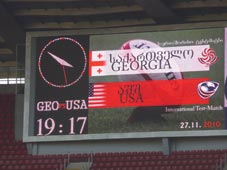 Georgians are not known for their meticulous time-keeping and they could not have left it any later to snatch a 19-17 victory against the USA in the autumn test match on November 27.
Having enjoyed a reasonably comfortable success against Canada in the previous week, Georgia went into the USA match at Dinamo Stadium in a positive mood.
Scottish coach Richie Dixon was looking to complete a double triumph over the North American sides and a passionate crowd of around 18 000 took their seats on a gloriously sunny day in Tbilisi.
The Georgians made a solid start as Lasha Malaguradze dispatched a 4th minute penalty from 30 yards to give the hosts a 3-point lead.
Valanese Malifa then missed a penalty for the Americans before Malaguradze again demonstrated admirable composure to kick between the posts and give Georgia a 6-0 advantage with a quarter of the game played.
However, USA fought back in spirited fashion and Paul Emerick broke through the Georgian backline to touch down for the first try of the game, thereby reducing American arrears to a solitary point.
Malifa soon made amends for his earlier miss by scoring a penalty before unleashing a glorious drop goal right on the half-time whistle to give USA an 11-6 lead at the interval.
Malaguradze and Merab Kvirikashvili both scored penalties either side of another three points from Mailfa, making the score 14-12 with a quarter of the game remaining.
The Americans stretched their advantage when full-back Chris Wyles scored a wonderful drop goal which temporarily silenced the home crowd.
Trailing by five points, the Lelos pushed hard for the try that would, at the very least salvage a draw. However, all hope appeared to have gone as the match drifted into stoppage time without any further scoring.
But the Georgian spirit again came to the force as they earned an unlikely win in the dying seconds.
The Americans, under intense pressure, conceded a scrum under their posts and when the ball broke free it was switched to Lekso Gugava who went over unchallenged to send the home crowd into raptures.
However, all this had done was level the match. Kvirikashvili stepped up to score the match-winning conversion which again had the Georgian crowd in fits of jubilation.
The players left the field to a heroic ovation as Dixon continued a flawless start as national coach.
Afterwards, Dixon praised the character of his players: "What we saw today was a close match but the Georgian spirit helped us to fight right to the end. They have a great passion for their country and that has really shown in their performances."
Indeed, it was another dramatic ending to a national sporting event at Dinamo Stadium in what has been an encouraging year for Georgian sport.
The Georgians proved, once again, that it's better late than never.