Need for observation in Georgia
By Gvantsa Gabekhadze
Thursday, December 2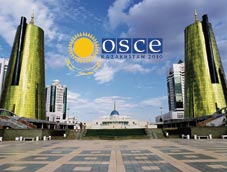 The world leaders underlined the necessity of OSCE observing missions restoration in Georgia, statements concerning the issue were made on December 1 in Astana, on the opening day of OSCE summit.
Heads of State and Government from the 56 OSCE participating States and 12 Partner countries are gathered in Astana, Kazakhstan for a two-day summit, which is the first of this type since 1999 Istanbul summit. Georgian and Russian Presidents, Mikheil Saakashvili and Dmitri Medvedev are respectively, among them. OSCE mission in Georgia was closed down after Russia blocked extension of its mandate after the August, 2008 war.
US Secretary of State, Hillary Clinton, stated, "It is regrettable that a participating state has proposed to host a mission and the OSCE has not been allowed to respond. We here at this table must let this organization do its job and restore a meaningful OSCE presence to Georgia." She has also called on "all parties to fully respect" the 6 point ceasefire agreements and welcomed President Saakashvili's unilateral pledge of non-use of force, made on November 23 in his address to the European Parliament.
"We support Georgia's sovereignty and territorial integrity, that is why we should be attempting, especially in the frame of Geneva talks for security and human rights protection in the region. I support the OSCE mission to be fully represented in Georgia, "Angela Mercel, Germany's Federal Chancellor, stated.
"OSCE Mission should be restored in Georgia. We should renew our intention for situation regulation in the country," Herman Van Rompuy, chair of the European Council, said.
Georgian Foreign Minister, Grigol Vashadze, stated in Astana for Georgian media, that Tbilisi would not support a final declaration of the summit if it failed to reflect Georgia's interests.
Georgia would use force only in the case of invasion on non occupied parts of Georgian territory taking place, President of Georgia, Mikheil Saakashvili said in his speech at the summit on December 1, "even in the situation when 20% of our territory is being occupied and our citizens' rights are being violated, we would not use force, unless there is an attempt of invasion on rest 80% of our area, "Saakashvili said and appealed OSCE to be more active for settlement of frozen conflicts.
Minister of Foreign Affairs, Grigol Vashadze said that Georgia would not support the final declaration of the OSCE summit, if it is not reflect present Georgian reality, "In the final document there should be a reference to the international cornerstone documents, such as UN Charter, Helsinki Final Act; it should necessarily contain a demand to Russia to fully implement the August 12, 2008 ceasefire agreement; this document should also reflect, along with [Georgia's] territorial integrity and Russia's commitments, the right of return in safety and dignity of all those Georgian citizens, who, as a result of Russian aggression, have become refugees or internally displaced persons," Vashadze said.
Certain parts of the Georgian opposition welcomed the statements regarding OSCE mission restoration in the country, however they are less optimistic on the outcome of the summit, "Georgia's main intention is the growth of the international observing missions in the country, as the present authorities are disabled to protect its people. As for a concrete decision, statements alone are not significant, collaboration on the issue, with all OSCE member countries should be carried out, "Irakli Alasania, leader of Our Georgia-Free Democrats, said. "Based on the present Georgia-Russian relations, Russia will not withdraw its veto, " Nika Laliashvili, representative of Christian-Democratic Movement stated.
Georgian analysts assessed the summit differently, "Georgian side should try to create international support for OSCE mission restoration in the country, despite Russian resistance, "analyst Giorgi Khutsishvili, said. "There would be an attempt to prettify and repair European security structure within the summit. At the present moment, the Georgian issue is one part of a big problem in European security architecture. After 2008 and the events in Georgia, that architecture was very seriously damaged. Now, in the frame of the summit, there would be attempts to repair and prettify the system or think on creation of some other one, "analyst Zurab Abashidze, said.
Based on analyst Tengiz Pkhaladze, Astana summit should respond to the main challenge, "It means how those documents which were adopted in the frame of OSCE are being fulfilled. Based on the OSCE Istanbul summit decision in 1999, Russia should withdraw its forces from Georgia and Moldova; however this obligation has not been fulfilled, just on the contrary, taking Georgian current reality into consideration."