Alasania criticises government over 'conflict zone' villages
By Mzia Kupunia
Thursday, December 2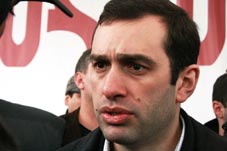 Our Georgia-Free Democrats party has called on the government to supply the residents of the villages adjacent to the administrative borderline between Georgia and South Ossetia with food and wood supplies. Leader of the Party, Georgia's former Ambassador to UN, Irakli Alasania summed up the results of his three-day visit to the villages in Gori and Kareli regions.
Alasania claimed that the people in the villages of both regions live in "utterly hard" conditions. "No flour and wood has been distributed to these villages so far. Due to lack of firewood, fruit trees are being cut," he said on Wednesday "the citizens living at the administrative borderline with the occupied territory have neither drinking water, no water for irrigation. Pieces of land are not cultivated. Cases of kidnapping are frequent," Alasania told journalists.
The leader of Our Georgia-Free Democrats blamed the government of "lifting responsibility" about the residents of the villages and of leaving them in the "war period situation" so that they are "forced to leave their homes." He claimed that the authorities make the residents of those villages live in "bad conditions on purpose." "The government is not giving those villages the status of conflict zone in order to move away from the responsibilities in this way."
Alasania suggested that if the villages are abandoned, it may bring "big damage" to the Georgian statehood. He criticized the local self governance institutions as well, saying that they have "no contact" with the population. "So they feel insecure and have to leave the villages. That's why we demand that the government fulfills its function and creates rudimentary living conditions for its citizens. We are going to talk with the government about these people every day and make the authorities fulfill their obligations," he said.
During the last three days leader of the opposition Party visited 14 villages of Gori region and 5 villages in Kareli region.