New seatbelt law now enforced in Georgia
By Salome Modebadze
Thursday, December 2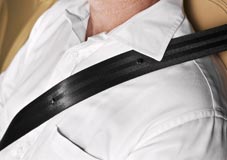 The compulsory usage of safety belts introduced by the Parliament of Georgia came in to force on December 1. The law obliges drivers and their front passengers to wear a seatbelt for safety reasons thus avoiding a fine of GEL 40. If the driver does not pay the fine in time he/she will then have to pay an additional GEL 150 which will be followed by the seizure of his/her driving license for the whole year. In case the patrol police officer will not sign the order on the spot this fact will be fixed on the photo/video record and the owner of the car will be sent the order at his legal address. If the latter will still refuse to pay the fine his/her vehicle will be sold in the frames of the law. There will be only privileges for the cars designed and produced without belts.
The majority of citizens welcomed the new initiative stressing the importance of security for passengers throughout the country. "The new regulation doesn't look at all fascinating for the drivers but we, the Georgians, are often endangering our or others' lives due to our passion to speed. So I think the only way for escaping the fatal endings are, unfortunately, fines," 25-year-old George told
The Messenger
.
Goga Khachidze the Minister of Environment Protection and Natural Resources (MOE) spoke of the sanctions against environment pollution which were also activated on the same day. According to the Minister the members of Inspection of Environmental Protection will be observing the violations and any infringer will receive the relevant documentation with video material straight to his/her residence to prove the legality of the fine. "The Parliament of Georgia has defined GEL 50 for passengers and drivers and GEL 200 for private or legal entities or the industry for polluting the environment. We have a very conscious society and I'm sure no one will drop trash and won't thus be fined," he explained.
Fines on environmental pollution should, according to the citizens, be defined by categories because it would be somewhat difficult for people to look after their litter during their strolls across the parks or cigarette ashes while discussing business in front of their offices. "Special regulations are necessary for getting used to cleanliness in our country but with the unregulated political-economical environment which doesn't protect the 40-50-year-old citizens can anyone think of trash? People who lack jobs, don't yet have a pension and have their minds full of different communal problems need protection from the Government themselves," 45-year-old Lali told us.