Russia remain distant on Georgian conflicts at OSCE summit
By Gvantsa Gabekhadze
Friday, December 3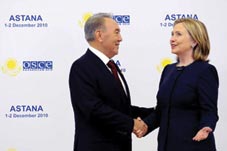 On the issue of Georgia's frozen conflicts, progress is still not visible in the frames of the OSCE Astana summit, despite several large scale international supportive statements- Swedish Foreign Minister, Carl Bildt stated on December 2. The most heavily involved side in Georgian conflict issues, Russia, left the summit too early and refused to sign the final declaration of OSCE.
"Unfortunately there is no progress concerning the Georgian conflict regions in the frames of OSCE summit, despite such long discussions dedicated to the issue at the summit. Now we start talking in the language of democracy and will see whether it imposes any outcome or not, "Bildt said.
The main reason for such pessimistic statements was the Russian reaction at the summit and its premature departure from the summit. Herewith, the Foreign Minister of Russia, Sergey Lavrov has obviously stated that the Russian side is not going to collaborate with the present Georgian authorities, ""In the final declaration, we are ready, in certain details, to actively support the Geneva Discussions. But we can not agree with [the wording] that these Discussions are dedicated to "conflict in Georgia", as it is presented by some of our western partners, "Lavrov said, claiming that, "talking on dialogue with the Georgian side can be excluded. Despite making speeches from a high position, Saakashvili could sign such a document three years ago, as he had promised the President Medvedev. That document, unlike statements, would have judicial force and importance."
In his speech at the OSCE summit in Astana on December 1, Russian President, Dmitry Medvedev, briefly mentioned Georgia and said: "Use of force, as the Georgian leadership tried against South Ossetia in August 2008, is absolutely inadmissible."
Georgia is still re-emphasising the necessity of dialogue, "We consider that the only way to achieve stability in the region is peace and that is why we encourage dialogue with the Russian side. We recognize the power of words and not weapons, " President of Georgia, Mikheil Saakashvili stated in Astana.
The signing of the document on the non use the force between Georgia and Russia is less likely, analyst Hamlet Chipashvili, said, " The proof of this are those statements which have been made by Lavrov at the summit. Herewith, Russia does not need such a document, as Georgia will never be able to threaten Russia. Lavrov has stated very clearly that no dialogue will take place with Georgian authorities, never mind the signing of some document."
According to analyst Roman Iokovlevski, "The Russian reaction on the summit might be imposed for certain reasons. The Russian President's initiative on new European security structure has not been reflected in the final declaration of the document. Herewith, Medvedev found himself alone at the summit and perhaps he could not bare such an atmosphere and left the summit too early." A different attitude on how the conflicts might be regulated was offered by the analyst Iuris Piuders, "The most important thing is that the leaders meet one another and the key for the settlement of any conflict is time. It is my personal opinion that without changing of the present generation of leaders, conflict settlement is unimaginable. I think that the new wave of leaders would be more capable of this. In general, patience and peaceful methods are the only ways to solve the conflicts."