Two projects signed at Japan Ambassador's Residence
By Messenger Staff
Friday, December 3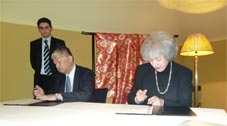 On December 1 the Signing Ceremony for two projects within the framework of the "Grant Assistance for Cultural Grassroots Projects" was held at the Residence of the Ambassador of Japan to Georgia. One of the signed projects was for the Improvement of Educational Equipment of Tbilisi State Conservatoire (Project scale; 91,636USD) and the second for the Improvement of Dadiani Palace History and Architectural Museum of Georgian Museums Association (Project scale; 85,868USD).
Ambassador Extraordinary and Plenipotentiary of Japan to Georgia H.E. Mr. Masayoshi Kamohara attended the ceremony, as well as the representatives of the Ministry of Culture and Monument Protection.
The Grant Contracts of the above-mentioned projects were concluded between the Embassy of Japan and V. Sarajishvili Tbilisi State Conservatoire as well as Georgian Museums Association. The first project aims at improvement of educational condition of orchestra of V. Sarajishvili Tbilisi State Conservatoire through providing musical instruments, while the second project aims at improvement of exhibition environment of Dadiani Palaces History and Architectural Museum in Zugdidi through rehabilitating exhibition rooms as well as providing showcases and security equipment.
The "Grant Assistance for Cultural Grassroots Projects" (GCGP) provides assistance to relatively small projects implemented by municipalities, research and higher educational institutions, as well as NGOs aimed at promotion of cultural field. In 2007 the Project for the Rehabilitation of 'Georgia-Japan Friendship Judo Hall' was implemented as a first GCGP project for Georgia and the projects signed this time became the second and third GCGP projects implemented in Georgia.
The size of Japan's Official Development Assistance to Georgia in total has reached over 361 million USD, covering a wide spectrum of areas such as the improvement of economic infrastructure, agricultural and social sectors, culture and human resource development.