Culture Ministry on "act of Vandalism" in Ilori
By Mzia Kupunia
Friday, December 3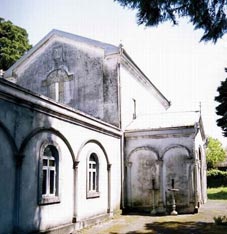 The Georgian Culture Ministry on Thursday appealed to the international community and its organizations with a special statement on an alleged act of vandalism at Ilori St. George Church in Georgia's breakaway region of Abkhazia.
The Minister of Culture and Monuments Protection, Nika Rurua, made a special announcement, addressed to the UNSECO World Cultural Heritage Centre, the International Centre for the Study of the Reservation and Restoration of Cultural Property (ICCROM), the International Council on Monuments and Sites (ICOMOS), International Council of Museums (ICOM), the UN Representation, EU Monitoring Mission and to various diplomatic representations in Georgia. Rurua called on the international organizations to use "all available means to stop intentional ruining of historical and cultural heritage on Georgia's occupied territory."
According to the official statement of the Georgian Culture Ministry, due to "so called rehabilitation works" the 11th century church "has lost its authenticity". "The works have ruined the originality of the Georgian traditional architecture style. The church now has a typically Russian dome. The outer facade, including the Eastern wall with 5 Georgian inscriptions, has been colored white while the Domes are colored red. The church now has different elements, which are absolutely irrelevant to the Georgian architecture," the statement of the Culture Ministry reads.
Minister Rurua assessed the incident as an "act of vandalism". "These actions should be stopped as soon as possible," he noted "occupants and the puppet regimes are acting on Georgian territory just like in the earlier period exarches would act in Georgia," he added.
TV Company
Rustavi 2
reported about the "rehabilitation works" in Ilori St.George Church earlier on November 18. According to the TV Company, the works have endangered unique frescos in the church. The footage aired on Rustavi 2 showed tanks and armored vehicles deployed at the church.
Ilori St. George Church is located in the village of Ilori, Ochamchire region. It served as one of the most important sacred places in the medieval Georgia. In XVII century, Levan II Dadiani renovated the church. However, in the XVIII century Ottoman Turks burnt it down and later Princes of Odishi restored it again.
De facto Abkhazian authorities have made no statements in response to the claims of the Georgian Culture Ministry so far.