Possible Portuguese plans to invest in Georgia
By Gvantsa Gabekhadze
Monday, December 6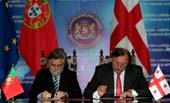 Minister of Foreign Affairs of Portugal, Luis Filipe Marques Amado paid a two day official visit to Georgia, December 2-3. Georgia and Portugal agreed on collaborating in the field of alternative energy and signed a memorandum on bilateral political consultations. The two sides discussed bilateral relations between Georgia and Portugal, focussing on the enhancement of political, economic and cultural ties and the opportunities for cooperation in multilateral format. The OSCE Astana summit and situation in Georgia's occupied regions were also discussed.
"We agreed that nearly 70 projects regarding the energy sector will be sent to Lisbon. Those projects will soon begin in Georgia. Our current goal is to create a legal base for bilateral economic collaboration. For this, memorandums on investments and double rating are necessary. When these documents are ready, nothing will stand in the way of our collaboration. Portugal is one of the leading countries in Europe in the field of alternative energies," Georgian Foreign Minister, Grigol Vashadze commented.
Portugal is ready to invest in the Georgian energy sector. Amado said, "We have a serious experience in using of hydro resources and solar energy. We are ready to share our achievements in this field with Georgia and make investments into the Georgian energy sector."
Another memorandum was signed on December 3, between Amado and the Minister of Culture and monument protection, Nikoloz Rurua concerning the two countries cultural relations. The memorandum outlines how the two states will collaborate in creating cultural exchange programmes and deepening cultural, educational, sporting, scientific and technological links. Bilateral visits will be more frequent to that experiences can be shared.
"Georgia can always rely on Portugal; we will help you in building better relations with the European Union," stated the Portuguese Foreign Minister.
Economic Analyst, Gia Khukhashvili told
The Messenger
, "The field of alternative energy is a significant one, but for now the use of internal hydro resources should be more important for Georgia. As for Portugal, it is well known that the country has serious financial problems and a huge debt. It has so many internal problems that it is unlikely that Portugal will be interested in helping to settle Georgia's issues and problems, let alone investing in Georgia, as for the present moment Portugal does not have the means to do so. I think that those statements are just empty words and I don't expect any real practical outcomes from them."