Russian media: Moscow increases its military presence in Tskhinvali region
By Mzia Kupunia
Tuesday, December 7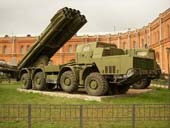 A division of reactive artillery equipped with a multiple rocket launcher artillery system Smerch, has been deployed close to the town of Tskhinvali in Georgia's breakaway region of South Ossetia, Russian media outlets reported on Monday. Interfax news agency, based on an anonymous source from Russian law enforcement structures, reported that the division has been deployed in order to "prevent possible aggression from the Georgian side."
According to the source, the division is in "full military readiness". "It is composed of contract military servicemen with experience of working on the above-mentioned type of reactive artillery complex,"
Interfax
quoted an unnamed Russian official as saying. Earlier on Sunday, news agency
Osinform
reported on an increase in the amount of military equipment on Russian military bases deployed on the territory of de facto South Ossetia.
Officials in Tbilisi have said they do not have any information regarding the alleged increase in the Russian military presence in Georgia's breakaway region of Abkhazia, so far. Speaking at the usual Monday briefing, Georgian Deputy Foreign Minister, Nino Kalandadze said the Russian media has reported on "rotations on the ground" and not about an increase in armaments or personnel. "However any activities, not coordinated with the Georgian government, are considered as a violation of August 12, 2008 ceasefire agreement, as well as a violation of international law, especially when the activities are carried out by the occupying force," Kalandadze noted.
The Georgian side will inform the international community about the alleged increase of Russian military presence in South Ossetia, the Deputy Foreign Minister noted. "We consider it our duty to inform the international community about any activities of the Russian Federation on Georgia's occupied territories, although according to our information there have been rotating activities and not the increase of the arms in Tskhinvali region," Kalandadze told journalists.
So far the Georgian Interior Ministry has not made any comment on the issue. Officials from the Ministry were not immediately available for comment.
According to www.defencejournal.com, the Smerch multiple rocket launcher is designed to defeat soft and hard skin targets, artillery and missile systems. It fires from a 300 mm 9M55K rocket. Firing range is 20 km to 70 km, according to the website.