Paata Burchuladze officially named UNICEF Goodwill Ambassador in Georgia
By Messenger Staff
Tuesday, December 7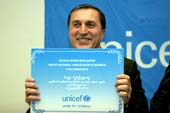 UNICEF Georgia announced the appointment of the famous opera singer, and world renowned bass Paata Burchuladze as the first National Goodwill Ambassador at a special ceremony organised in the Radisson Iveria hotel in Tbilisi on December 3. Paata Burchuladze has joined forces with UNICEF to advocate children's rights.
"We are delighted to welcome Paata Burchuladze to UNICEF," said Roeland Monasch, UNICEF Representative in Georgia. "Mr. Burchuladze's voice will deliver a truly powerful message on behalf of Georgia's children. His popularity across the country and beyond, his commitment to children will undoubtedly draw the spotlight to the issues affecting children in Georgia." he added.
"This is an honour for me," said Paata Burchuladze, the new Goodwill Ambassador for UNICEF Georgia. "It is a huge responsibility and I will do my best to continue supporting children in Georgia and to justify this title," he added.
Paata Burchuladze has performed with the brightest stars in the world's greatest opera houses. He received special acclaim for this portrayal of Boris Godunov. He was invited to inaugurate the New York Metropolitan Opera 1990/91 season with that role, which he also performed at the Royal Opera House in Covent Garden, London and at the State Operas of Vienna and Munich. Apart from his operatic fame, Paata Burchuladze is also a celebrated and refined concert and recital singer, performing regularly in prestigious festivals and with important producers worldwide.
In 2004 Paata Burchuladze established the Charity Fund 'Iavnana' to support vulnerable children and families in Georgia. 'Iavnana' has organised 41 charity gala concerts and events, 37 in Georgia and 4 abroad: in London, Berlin, Madrid and Tel Aviv. Stars like: Montserrat Caballe, Ferucho Furlanetto, Marcelo Alvarez, Marco Berti, Ambrojio Maestri and many other prominent stars took part in these charity concerts together with Paata Burchuladze.