Georgia stand firm on Russian WTO entry conditions
By Gvantsa Gabekhadze
Thursday, December 9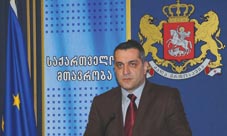 The Georgian side is ready to start negotiations with Russia concerning the federation's participation in the World Trade Organization (WTO) , however Georgia is strict in its demands. A statement concerning the issue was made by the Prime Minister's spokesperson, Niko Mchedlishvili, on December 8.
"We are ready to start negotiations with Russia regarding the issue; however we demand Roki and Psou checkpoints to be legalized. We have a veto right and without our assent Russia would not participate in WTO; it is the only way to start negotiations between the sides to achieve some kind of agreement, "Mchedlishvili said.
Now the attention turns to Russia. Georgia's future Ambassador to Switzerland and, after taking the post the country's permanent representative to WTO, Zurab Chiaberashvili, said, "it is in the Russian interest to clarify each issue with Georgia and with all WTO countries before participation there. Our conditions are clear and based on economic and not political arguments. We are ready to listen to Russia and their responses on the issue, now it is Russia's turn."
Russia has not yet responded to the Georgian suggestions, however the head of the federation is very optimistic towards Russia's participation in the organization, "after successful negotiations with the United States and the European Union on the issue, Russian participation in WTO is very real, "Dmitry Medvedev stated.
"I can't exclude that despite Georgia's strict position towards Russia's participation to WTO, that country will become an organization member", economic analyst, Levan Kalandadze, said, "If Georgia is not supported by Europe and the United States in its demands, despite our position, Russia will become an organization member country. It is important for Europe and the United States to have Russia in the organization. It's necessary for their international policy . I don't believe that Russia would protect the organization's conditions towards Georgia, if it becomes WTO member country, However Georgia should enter negotiations with the partner countries and adopt the strategy to make Russia fulfil the organization's rules after some period."
As analyst Soso Tsiskarishvili told
The Messenger
, "Russia's membership to the WTO is in the interest of Washington, Brussels and Georgia as well. The more Russia is attached to the civilized world, the more it will be targeted by the democratization process in the country. In any case, negotiations with Russia concerning the issue should start. However, in this case it would be more to do with trade than negotiations. Georgia would have a chance to decide with whom to trade, with Moscow or with the United States, as those finances, Georgian authorities received from the US, after 2008, will be depleted very soon and our authorities, with such an unlimited appetite, would have a desire to get assistance from this direction. This case might be the reason for Georgia's agreement on Russia's participation to WTO. I don't think that the Georgian side will have its preconditions satisfied," Tsiskarishvili said, claiming that, "no matter what decision is made by the authorities regarding the case, it would impose very controversial statements; In any event, I advise the authorities to consult with the opposition and the analysts before making the decision and consider their viewpoints."