Gordon, McFaul speak about relations with Georgia and Russia
By Mzia Kupunia
Thursday, December 9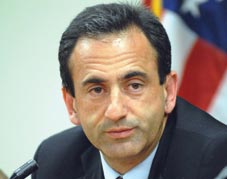 The US Assistant Secretary of State for Europe and Eurasian Affairs, Philip Gordon named Georgia as one of the top disagreement issues between the US and Russia, Georgian TV company, Rustavi 2 reported on Wednesday. Talking to the TV channel, Gordon noted that the US is expecting "significant improvement" of relations between Washington and Moscow after OSCE Astana and NATO Lisbon Summits.
The Assistant Secretary of State pointed out five main issues of cooperation between the United States and Russia: Afghanistan, the fight against piracy, against the weapons of mass destruction and terrorism, as well as cooperated actions against natural disasters, Rustavi 2 reported. "The issue of Georgia is a top subject of disagreement between Moscow and Washington," the TV Company quoted Gordon as saying.
The Assistant Secretary of State touched upon the issue of disagreement between the US and Russia earlier in November as well, saying that the positions of Washington and Moscow "differ" in relation to Georgia and that the US administration has been "openly" pointing out this issue with Russia. The US official then reiterated the demand of Washington towards Moscow to withdraw Russian troops from Abkhazia and Tskhinvali region and to fulfill the commitments under the August 12, 2008 ceasefire agreement.
Meanwhile, Georgian media reported the statement of another US official, President Obama's advisor, senior director for Russia and Eurasian affairs at the National Security Council, Michael McFaul with regards to relations with Russia and Georgia. According to Rustavi 2, McFaul said the US is not going to "play the game" of either Russia, or Georgia. He noted that Washington will not pursue relations with only one of these states, although, as Rustavi 2 put it, the leaders of both countries time to time ask the US to do so.
According to McFaul, the regulation of "complicated processes" in the Caucasus requires "management on both sides." "There have been delicate moments, when we have been conducting phone calls between Tbilisi and Moscow in order to calm down the situation. President Obama supported integrity of Georgia's borders once more at the NATO-Russia Council meeting. Our position will not change, however at the same time we want to cooperate both with Georgia and Russia in order to maintain peace," news agency GHN quoted President Obama's advisor as saying.
Georgian officials in Tbilisi have hailed the statements of the US authorities, saying that they indicate the international community's support towards Georgia. "The statements show that the United States' diplomatic struggle with Russia on Georgia's issue continues," MP from the ruling National Movement Party, Chairman of the Parliamentary Committee on European Integration, Davit Darchiashvili said "Without this diplomatic struggle the prospects of solving the conflict justly would be much more unclear. Russia will not make steps because of one or two statements, however the process goes on," he added.