Tskhinvali still insists on signing a non use of force document
By Mzia Kupunia
Friday, December 10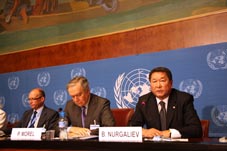 The Geneva talks' co-chairs paid a visit to Georgia's breakaway region of South Ossetia on Wednesday. Pierre Morel of the European Union, Antti Turunen of the United Nations and Bolat Nurgaliev of the Organisation for Security and Cooperation in Europe met Boris Chochiev, the de facto Special Representative of the so called South Ossetian President in Post Conflict Regulation Issues in Tskhinvali. The sides discussed the issues related to the next 14th round of Geneva negotiations scheduled for December 16, according to Osinform news agency.
Despite the "serious disagreement" during the previous 13th round of talks in Switzerland on the resolution adopted by the UN General Assembly about the IDPs, the "South Ossetian delegation" is determined for a "positive work" during the upcoming round of negotiations, head of the de facto South Ossetian delegation to Geneva, Boris Chochiev told the co-chairmen. He reiterated the position of the de facto South Ossetian authorities about the "necessity" to sign a non-use of force document with Tbilisi. "We are hoping for making steps forward in this respect during the next round of talks. We know that all other issues, related with the IDPs and international monitors, as well as with incidents prevention and response mechanisms are connected with it [the non-use of force agreement]," Chochiev said.
EU's Pierre Morel said "there are hopes for new approaches" to the issue of non-use of force document, according to Osinform. He touched upon the issue of the recent OSCE summit in Astana, saying that the security issues were discussed in Kazakhstan. "The discussion on the issue of signing a non-use of force agreement has been in progress for a long time and there are hopes for new approaches towards this subject," Osinform quoted Morel as saying. He noted that Georgian President's peace initiative voiced at the European Parliament on November 23 has a "solid legal character." "It is a subject and basis for further work. It is a relatively substantial compotent, direct material for serious work," he stated.
Bolat Nurgaliev of the OSCE also said that Saakashvili's unilateral pledge of non-use of force contains a "legally binding power." "I think that the international organizations to whom the address was sent will record it relevantly and based on the real documents, we will continue working on the issue," Nurgaliev said, according to
Res
news agency.
Tbilisi refuses to sign a non-use of force document with its breakaway regions of Abkhazia and South Ossetia, saying that such an agreement should be signed between Tbilisi and Moscow as "Russia is the side of the conflict."