Finance Minister proclaims 'new economic course' for Georgia
By Gvantsa Gabekhadze
Tuesday, December 14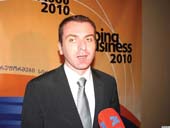 Minister of Finance, Kakha Baindurashvili met with the Parliament majority and minority representatives concerning the new economic course, on December 13. As he has mentioned, all business related problems would be settled for the first half of 2011; however the opposition and analysts are less optimistic towards the authorities' new strategy.
"The main basis, on which the new economic course is oriented, is the formation of partnership relations between the business sector and the authorities. Tax regulation for the small business would be simplified and the taxpayer with 3%-5% circulation would be enabled to carry out simplified bookkeeping. The taxpayers' interests would be protected by the tax ombudsman; the creation of the institute is foreseen within the new course. In case the payer makes an honest mistake due to lack of knowledge of some regulations, he would be freed from sanctions, " Baindurashvili said and also mentioned that new cash apparatus would be introduced to the country, "After the introduction of this cash apparatus, there would be no need for them to be checked by the tax service, they would be checked only in case of inaccuracy. Due to the apparatus, information on each check goes to the tax service as those apparatus are connected to the central office with GPAR system."
The majority representatives welcomed the innovations, "Lately, the business environment has been significantly improved in the country; however there are some shortcomings as well. Based on the presented course, those shortcomings will be annihilated, "Majority representative, Petre Tsiskarishvili, stated.
For the parliamentary minority, the new economic course is not 'new' at all, "For Christian democrats, the new economic course means a different budget and tax priorities, development of small and middle business, development of different economic fields, so we can not call this a new economic course. Here are new customs and tax procedures and a more technically simplified system, which is not bad of course, but in our opinion, a new economic course will only be taken if our economic priorities are to be completely refreshed and the system would be fully renewed, "leader of Christian-Democratic Movement, Giorgi Targamadze, said.
As economic analyst Gia Khukhashvili told
The Messenger
, he is sceptical towards the new economic course and thinks that the authorities are not ready for partner relations with the business sector, "I welcome such optimistic statements from the authorities but I think that significant systemic changes are needed in this direction, all half measure decisions would not be profitable. At the present moment business is completely integrated with the authorities. The government is a patron and the business is a slave. Moving from such position into partner relations so quickly is less expected in my opinion. At the present moment, the authorities are not ready to change this reality."