Journalist under fire over bribery article
By Gvantsa Gabekhadze
Thursday, December 16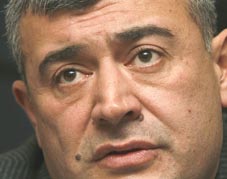 The Georgian party appealed against a journalist, Jaba Khubua, to the Georgian Journalist Ethic council, on December 15. The reason for this is the scandalous article published in the newspaper
Asaval-Dasavali
by the journalist on December 13, according to which, one of the leaders of the Georgian party, Levan Gachechiladze took a significant amount of money from the President Mikheil Saakashvili to stop street rallies after the presidential elections of 2008.
"Appoint me as a prime Minister for some period, I need five million. I also need 10-12 million, as an initial capital for creation of Ilia Chavchavadze Land Bank, "reads the article. Herewith, as it is written there, Gachechiladze demanded from the president to appoint Tina Khidasheli (one of the leaders of the Republican Party) as a General Prosecutor and that the President gave Gachechiladze two millions as an advance and refused to deliver the remaining sum. As the author of the article says, after the fact, Gachechiladze considered that the President cheated him and the rallies went on again and that the main goal of the president, in delivering the sum to Gachechiladze was "holding the inauguration ceremony in a peaceful environment. "
"Principles of moral and ethics should be settled in all fields of social life, including journalism. Jaba Khubua has no journalistic values and the most important for him is to publish something scandalous and false information. He violates one of the main principles of Journalistic charter, based on which, the journalist should always deliver checked and correct information to society, "the Georgian party stated.
The party and Gachechiladze are sure that the journalist fulfilled the governmental order, "I could have warm relations with Saakashvili and be one of the richest men in Georgia, however I declined this as I refused to build a castle in dirt. I have been building my name for 46 years and I will not let anyone defile it. I demand categorically an immediate presentation of the letter, as supposedly written by me, where I demand some amount. "Gachechiladze said.
Khubua denied the authorities' involvement in the issue and said that he did not violate any charter, "the source from where I gained the information is trusty and I can say that those people are against the present authorities. They don't want to see a repeat of the same events which lengthened being of the current authorities till now. I have not violated anything. Any journalist would publish the materials he was delivered. I can't understand those people who have adopted the charter and who are in the ethic council, who has given them the right to make a judgment on my and some other journalists' materials?" Khubua said.
As analyst Gia Khukhashvili told
The Messenger
, "I practically exclude this kind of agreement between Saakashvili and Gachechiladze. To look at it simply, after such an incident Gachechiladze would not be an active politician as he was after 2008 and still is. One can blame Gachechiladze for many things, as he brought too much emotion to politics and could not realize some promises, however no one should claim that he hates his country so much to meddle with the authorities on such an issue."