Georgia seeks more American military support
By Gvantsa Gabekhadze
Friday, December 17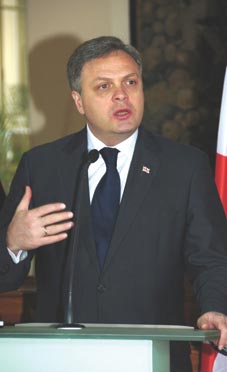 Tbilisi is in close military cooperation with the United States, but wants more relations in this sphere, Giorgi Baramidze, the Georgian deputy PM and state minister for Euro-Atlantic integration, stated on December 15.
"We can not go into details of this matter now... But it's not the case that absolutely everything has been suspended. We want more relations with the U.S. in the sphere of strengthening our defense capabilities. I can not say more about this issue publicly, because this is a very delicate issue, which we do not want our enemies to know... It concerns sensitive issues, so I would not go further into details," Baramidze said.
He also said that he had raised this issue, among others, during his meetings with U.S. officials in Washington, including with Assistant Secretary of Defense for International Security Affairs Alexander Vershbow.
There are people in the United States who also frequently underline the importance of providing Georgia with defensive weapons and appeal to the President Obama to do this, "For starters, we need to resume the sale of defensive arms to Georgia. Our allies in central and eastern Europe view Georgia as a test case of whether the United States will stand by them or not. Russia views Georgia as a test case, too – of how much it can get away with in Georgia. It is the policy of our government to support Georgia's aspiration to join NATO. And yet for two years, mostly out of deference to Russia, defensive arms sales have not been authorized for Georgia. This has to change. At a minimum we should provide Georgia with early warning radars and other basic capabilities to strengthen its defenses," US Republican Senator, John McCain has stated.
The Russian attitude concerning the issue is well known, Russian officials consider that the United States should not provide Georgia with any kinds of weapons.
As military analyst and Editor in Chief of Military –Political magazine
Arsenali
, Irakli Aladashvili told
The Messenger
, "Leader of republicans, John McCain, frequently points out the importance of giving defensive weapons to Georgia, which would be the sign that the United States is not giving up on Georgia. Radars and systems like this are in most country's armament and there is nothing unusual if Georgia wants to purchase these kinds of weapons, especially when there is no international prohibition of selling weapons to Georgia. However there is another purely political factor. Based on Obama's reset policy towards Russia, America avoids irritating this country and avoids making such steps as providing Georgia with weapons. Negotiations on the issue between the United States and Georgian officials are ongoing; of course the details would not be made public. However, based on the present reality I am doubtful that America will send us those weapons."