Nesterenko: Abkhazia and South Ossetia are not occupied
By Mzia Kupunia
Friday, December 17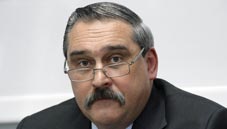 Russia's position in terms of Abkhazia and South Ossetia is "unchangeable", official representative of the Russian Foreign Ministry, Andrey Nesterenko said in an interview with the Georgian news agency
GHN
. "They are independent states and no occupation is taking place there. I would like to stress that we are not making any activities there aimed at intimidating anyone - it is just defence," Nesterenko stated.
Georgians should decide by themselves, who they want as a leader, the Russian official said when answering a question about the ways of solving the "deadlocked" problem. "It is very important," Nesterenko noted, adding that diplomatic ties between Russia and Georgia were cut "with the initiative of Mikheil Nikolaevich," referring to the Georgian President, Mikheil Saakashvili. "As for the solution of the problems related to Abkhazia and South Ossetia, I think that it should be found together with Abkhazians and Ossetians," Nesterenko pointed out, adding that "direct contacts should take place."
"Georgian diplomats should search for the forms of dialogue, but it should not be merely a dialogue when everyone blames each other. It is necessary to lead a bilateral discussion," he told GHN news agency "each of the sides should say how they see their own position and then it is crucial to seek for the ways of getting closer. However all of these should be happening only through dialogue and only with certain guarantees," the Russian MFA representative noted.
Nesterenko commented on the detention of the alleged Russian spies and the alleged organizers of the recent explosions in Georgia. He downplayed the accusations of the Georgian law enforcers, saying that "all of this is a farce." "In order to get an objective picture of the events, we need to have exact data, and if they are talking about accusations, these accusations should be raised by the competent institutions," Nesterenko noted, adding that Interior Minister cannot be considered as "competent" because "the Interior Minister is a person who has been appointed by Mikheil Nikolaevich. That's why he will do whatever Mikheil Nikolaevich tells him to do."
Georgia and Georgians are "still loved in Russia," according to Nesterenko. "We are the people with common history and deep cultural links. There have been no cases of unfriendly attitude towards Georgian nationals in Russia. People realise that politics is a different thing, and a real life, history and blood, which have been mixed, is different. We cannot cut the Russian-Georgian links, just as we cannot cut links between the Russian and the Ukrainian people. This is history," he said " we should just understand that when "uncle Sam" says "hello" from Washington because someone benefits from breaking all these, history then does not forgive such mistakes."
Officials in Tbilisi have suggested that "facts state otherwise." "Neither the Russian Empire, nor Soviet Russia nor contemporary Russia have had good relations with its neighbours. We can recall the genocide of Circassians, Ingushetians and other Caucasian nations, we can remember mohajirism of Abkhazians… All of these are historical facts," Chairman of the Parliamentary Commission on territorial integrity issues, Shota Malaskhia said "Everyone in the world, except Nesterenko, says that these territories [Abkhazia and South Ossetia] are occupied. Nobody, even Stalin or Hitler has recognized the territories where ethnic cleansing had taken place, as independent states. So, we can see that contemporary Russia has gone far beyond that," he told
The Messenger
.