National Tourism Agency and National Film Center will collaborate in terms of Film Tourism
Monday, December 20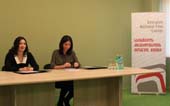 A memorandum of partnership was signed between the National Tourism Agency and National Film Center. The document was signed by the Head of the National Tourism Agency, Maia Sidamonidze, and Director of National Film Center, Tamar Tatishvili.
The partnership implies that agencies will popularize Georgia outside its borders (cooperative presentation of the country on various film festivals and tourist exhibitions,) in an attempt to attract tourists and investors to Georgia; all of this will also promote the development of Film Tourism.
Film Tourism is a new venture throughout the world and is already quite popular. Its intention is to attract representatives of different film sectors to produce movies in our country and to hold special film tours for ordinary film lovers.
Collaboration between the industries of Film and Tourism is quite popular throughout the world and there is plenty of evidence to support this. "Lord of the Rings" is an exemplary case for it – according to information given by the Tourism Department of New Zealand, the number of tourists visiting the country grew after the movie was released and it still attracts many visitors.
The National Tourism Agency and National Film Center will work on many projects together. The execution of the projects will start in 2011.