Tbilisi criticises Moscow and Geneva co-chairs
By Mzia Kupunia
Monday, December 20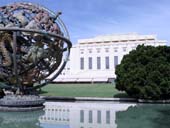 Following the statements about the "disappointment" of the Georgian side about the results of the 14th round of Geneva talks held on December 16, the Georgian Foreign Ministry issued a special statement, criticizing the Russian side of "attempts to destabilize the situation in Georgia's occupied regions" and calling on the co-chairs of the Geneva talks to taka a "firmer and clearer" position on the issue of "pressuring Russia to make a non-use of force pledge."
The Georgian Foreign Ministry stressed that it was the first meeting in the Geneva format since the unilateral declaration of the Georgian President, Mikheil Saakashvili about non-use of force against Georgia's breakaway regions of Abkhazia and South Ossetia.
"Despite the fact that Georgia's pledge about not using force was assessed by the co-chairs as an important and a constructive step, the Georgian side was displeased about the reaction of Russia," the statement reads "Russia refused to make a pledge on non-use of force against Georgia. Moreover, Russia once again tried to put the legitimacy of the August 12, 2008 ceasefire agreement and the commitments of Russia envisaged by this document under a question mark," it continues, adding that Russia's refusal is "especially concerning" against the background of deployment of multiple rocket launcher system Smerch in Tskhinvali region, Georgia and in light of Russia's "inflammatory rhetoric".
In its statement the Georgian Foreign Ministry has called on the international community to "strengthen pressure on Russia to convince it to take a pledge of not using force against Georgia." "the Georgian Foreign Ministry considers that a firmer and clearer position of the co-chairs of the talks in terms of this issue would be useful and promote making next rounds of meetings more effective," the statement reads.
Meanwhile, the Russian side has blamed Tbilisi of being "unconstructive" at Geneva talks. In a statement, released a day after the meeting, Moscow said the Georgian side "ignored" the statements of "its neighbours" on the non-use of force pledge. "Tbilisi's lack of readiness to establish good neighbourly relations with Abkhazia and South Ossetia has become obvious once more," the statement posted on the Russian MFA website reads.
Geneva co-chairs in their joint statement said that they "believe today's discussions, in light of recent and relevant developments, contributed to work in this regard and can provide an impetus for further steps in Geneva process."
US Assistant Secretary of State for Europe and Eurasian Affairs Philip Gordon, who represented the USA in Geneva, said Georgian President Mikheil Saakashvili's "gesture [declaration on non use of force) will allow the parties to focus on concrete issues such as the return of refugees, and access to gas and water." He urged Russia to make a similar pledge to refrain from using force in future, Associated Press quoted Gordon as saying.
The next round of talks in Geneva is scheduled to take place on March 4, 2011.