Burjanadze on her recent trip
By Gvantsa Gabekhadze
Friday, December 24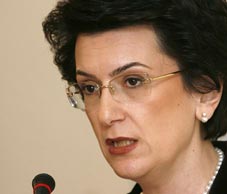 I do not care about the opinion of the people, because whom, Russian troops are deployed in Georgian territories, stated Democratic Movement – United Georgia leader, Nino Burjanadze while on her visit to Moscow. She has also mentioned that Georgia's inner affairs have not been discussed with the Russian authorities. Herewith the Movement leader gave a few comments in a scandalous interview published in
Asaval-Dasavali
newspaper. Besides Russian officials she also met with the Patriarch of Russia during her visit.
Burjanadze and the leader of Movement for Fair Georgia, Zurab Noghaideli, left for Moscow several days ago, to participate in the opening of Glory Memorial in Moscow, which is a definite analogy to an identical memorial destroyed in Kutaisi a year ago. Georgian authorities have strongly criticized the opposition leaders for their current actions. "The attendance of Burjanadze and Noghaideli at the memorial opening is nothing but impudence and cynicism," Minister of Culture and Environment Protection, Nikoloz Rurua, stated. However, as it seems, the Georgian officials' statements are less than important to Burjanadze, "Nika Rurua should have been irritated when the Memorial of Glory was demolished in Kutaisi, which killed two innocent people. They are constructing now a new building of parliament on the site, as if nothing had happened. Can the culture minister tell me why they demolished the monument? The Georgian government could have avoided the August war if it were adequate, clever and honourable. However, they didn't. Now I don't' care what they say about me," Burjanadze said.
She has also mentioned that Georgian internal affairs have not been discussed with the Russian officials, "Change of the current government in Georgia is up to the Georgians. I hope the Russian government understands this as well. Nobody will be able to stay in power for a long time without the support of the Georgian people."
The scandalous interview published in Georgian newspaper Asaval- Dasavali, included another theme which Burjanadze touched upon. (The interview was given by her husband, Badri Bitsadze, where he stated that after 2008 Presidential elections, one of the leaders of the Georgian party, Levan Gachechiladze, who was the Presidential candidate that time, took a bribe from Mikheil Saakashvili to conclude the street rallies.)
"It is an old story and I don't' know how it appeared in print. Such an interview was not given by Badri Bitsadze to the newspaper. I won't speak about any further details. I will only say that the opposition has different opinions. Some think they should wait for the parliamentary elections, while I and the Representative Public Assembly think each day under Saakashvili's regime is a danger to our country. I am ready for debates concerning the interview when I come back to Georgia." Burjanadze said.
She also met with the Patriarch of Russia, Kiril II, and according to the press service from the Democratic Movement- United Georgia, the Patriarch has stated that "...the issue of unity with Georgia's orthodox church will never be rechecked or set in the agenda." as the press service mentioned, Burjanadze raised the issue of Ilori Saint George's church during her discussion with Kiril II (the church, which is situated in occupied Abkhazian territory, has been subject to acts of vandalism according to Georgian authorities). Based on the press service, the Patriarch did not have complete information concerning the issue and he ordered the creation of special group which will investigated this issue in detail and that the Russian Patriarchate will do its best with regards to the Church's restoration.
As analyst Soso Tsiskarishvili stated, "Burjanadze and Noghaideli's decision to take part in the so called Georgia's supportive event, will be negatively reflected in their political future". Furthermore, he has mentioned that Burjanadze's participation in the memorial opening in Moscow "will have a negative influence on Representative Public Assembly's plans."
According to analyst Gia Khukhashvili, "Those politicians participation in the event was categorically unaccepted; it was a play where all players were negative. The destruction of the monument was an act of vandalism, however it was out interior issue and if Burjanadze and Noghaideli had something to say regarding this fact, they should tell this to the current authorities of Georgia."
Russian Prime Minister is looking for such basements in Georgia, which will help in adopting the "new reality" formed by Russians. Analyst Vasil Chkoidze, claims that, "Those politicians who are eager to gain Russian support, instead of coming to power or those who seek material welfare seem to be closing their eyes when it comes to the "political reality" created by Russia for Georgian territory." He has also mentioned the statement made by the Russian Prime Minister claiming to want good relations with Georgia was "cynical" and pointed out that, "Vladimir Putin wants to conserve all seemingly gained achievements concerning Georgia and nothing more."