Kokoity does not "trust" Saakashvili's peace initiative
By Mzia Kupunia
Friday, December 24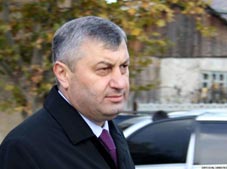 Tskhinvali is "skeptical" about Georgian President Mikheil Saakashvili's peace initiative, the de facto South Ossetian President, Eduard Kokoity said on Wednesday at a press conference in Moscow. "We are watching what is going on in Georgia, we have heard the statements of the Georgian President about peace intentions," he told Russian journalists "We have heard statements like this many times before. However, all these make us think that we might expect yet another provocation from Saakashvili's regime," Osinform news agency quoted Kokoity.
Kokoity stressed that Tskhinvali and Sukhumi are not planning to use force against Georgia. "We are not going to attack Georgia. Historical practice has shown that Georgia has taken the role of aggressor usually," the de facto leader stated. "Despite the fact that Georgia was dealt a serious blow in 2008, it still remains one of the most dangerous powers in the region and not only in the Caucasus. Georgia quickly restored its military potential," he added, noting that Tskhinvali is planning to make "serious steps" in order to avoid a repetition of the August 2008 events.
The de facto South Ossetian President stated that Tskhinavali will strive to achieve the recognition of "genocide" for the Ossetian nation during August 2008 conflict. He criticized the European structures for "avoiding" the issue "...despite the huge efforts of the Russian and the South Ossetian sides to record the crimes," he said. According to Kokoity, the European courts are examining 11 lawsuits filed by "South Ossetian citizens" who suffered during the August 2008 war. "We think that in the nearest future, almost all lawsuits filed by the South Ossetian citizens will be accepted as valid," the de facto leader noted.
Kokoity excluded the possibility of running for the third term of "presidency", saying that he "respects the constitution." "All pre-election promises given in 2001 I have met and even exceeded them. I have always said that I would not be running for the third term and change the country's constitution," Osinform quoted him as saying. "Presidential elections of 2011 will go smoothly," Kokoity added.
The Georgian side meanwhile is seeking for "legally establishing" the terms "occupation" of Georgian territories and "ethnic cleansing" of Georgian population in its breakaway regions in the international arena. The Georgian Foreign Ministry has criticized the Russian and the de facto sides as well for not accepting Tbilisi's peace initiatives at the Geneva discussions. "Russia had an extremely unconstructive reaction towards Georgia's peace pledge…according to them the initiative does not refer to them and they do not need to react to this," Deputy Foreign Minister of Georgia, Nino Kalandadze said.