Resource Officers Visiting "Momavlis Sakhli"
Friday, December 24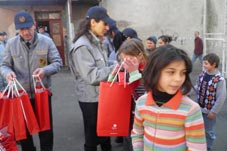 Resource Officers and representatives of the company "Nikora" visited the children of "Momavlis Sakhli" and presented them with the gifts. In the scope of the joint campaign, around 40 children from the orphanage were presented with the sweets, toys and other gifts.
According to the Resource Officers, their participation in such events is very important and they continue to hold similar campaigns.
In the scope of the charity campaign, Office of the Resource Officers promises several surprises for the children.
Resource Officers care for the safety of the schoolchildren, teachers and the school staff. The aim of such campaigns is to help explain the purpose of their office to the public.
In order to keep schools safe, Resource Officers started working in Tbilisi, Batumi, Zugdidi, Gori, Kutaisi and Poti Public Schools since the beginning of the new academic year.
The duty of the Resource Officers is to prevent crime and provide the children with any kind of aid. They are not allowed to punish the children and should care for the safety of the students.
Aim of the new initiative being implemented in the frame of the Safe School concept is to care for the safety of the schoolchildren.