Catholic Christmas in Georgia
By Gvantsa Gabekhadze
Monday, December 25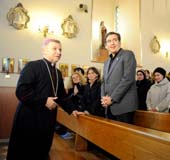 The Georgian President congratulated Catholics of Georgia on December 25 with Christmas. Mikheil Saakashvili went to the Catholic Church and addressed the gathered people. As he has mentioned people of different religious are living in Georgia and they are united around one common idea. The President also thanked the Catholic world for its support towards Georgia.
"Georgia was always notable for its variety of confessions, but representatives of all the confessions have one thing in common - they all love Georgia", Saakashvili said in the church.
The president stressed the contribution that the Georgian Catholics have given throughout the history of the country, "Georgian Catholics are an integral part of the Georgian history and a very important part of our cultural, spiritual, educational, national, multiethnic Georgian heritage," he said.
The president also recalled his meeting with Pope Benedict XVI and emphasized the solidarity Georgia received from the Vatican when it was needed most, "When our sovereignty and territorial integrity was put in danger by definite forces, we received significant support from the Catholic world. It was and is very important for us. I appeal to all citizens gathered here, that they can rely on Georgian state. "
The Archbishop of the Catholic Church in Georgia Giuseppe Pazotto also thanked the Georgian president for his visit.
"Mr. President this is your second visit to this church and it is a great honour for the Georgian Catholic Church. All of us perceive this as recognition of the contribution given by a number of famous Catholics, who did great work in Georgia. Common Christian belief helps our relations with the Georgian Orthodox Church, as between our churches the common greatly exceeds the differences", Giuseppe Pazotto said.