Beekeepers from Racha connect to Turkish market
Monday, December 27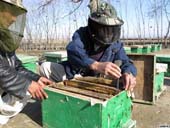 Beekeepers from Racha are in talks with four leading Turkish honey distribution companies regarding the sale of Racha honey. The companies met with the Georgian honey producers at an international fair.
From the 9th-12th of December, the Association of Farmer-Beekeepers from Racha presented four types of honey at the fair in Istanbul, Turkey. It was the first time that Racha's beekeepers participated in an international event.
The Association took part in the 4th Istanbul Food and Beverage Fair (FOODist) under the project entitled "Rural Development in the Racha-Lechkhumi Region, Georgia" (RDRL). The project was implemented by CARE International in the Caucasus, in partnership with Abkhazintercont and financed by the Swiss Agency for Development and Co-operation (SDC).
"We have presented honey made from acacia, lime, chestnut and different varieties of flowers. People liked all of the types very much but we learned that Turkey's market shows a preference and a demand for chestnut honey," said Lasha Gagoshidze, president of the Association.
Initial negotiations were carried out with foreign company representatives in Istanbul. As Gagoshidze pointed out, a stable market potential was already revealed. There is an interest of one Turkish company to buy honey and the Association is going to send samples of their product for laboratory tests. Following this, negotiations concerning the sale of honey will begin.
The Association of Farmer-Beekeepers in the Racha Region was created in 2004 and includes 55 members.
The RDRL Project's goal is to insure "improved local market economies and that governance processes have benefited the poor." To this end, the project is using the "Making Markets Work for the Poor" (M4P) methodology. The project is funded by the Swiss Agency for Development and Co-operation (SDC) and is being implemented by CARE International in the Caucasus in partnership with AbkhazinterCont (AIC) and the Centre for Training and Consultancy (CTC), the Caucasus Environmental NGO Network (CENN) and the National Association of Local Authorities of Georgia (NALAG). The Project started in November 2008 and will finish in November 2011.