Invest in Svaneti, Saakashvili says
By Salome Modebadze
Monday, December 27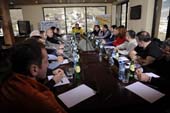 Georgian President Mikheil Saakashvili chaired the Government Session in Svaneti on December 24th. He spoke about the importance of Svaneti as one of the biggest tourist zones in Georgia. Saakashvili called the region "a new world pearl" with its great tourist potential. Regretting that Svaneti was closed even to Georgians for years, the President defined the special criteria reflecting the uniqueness of the resort region, highlighting unimaginable beauty, a very dry and healthy climate, ideal temperature for winter and summer along with the large number of snowy days and the lack of wind, which according to Saakashvili helps to create a unique cultural heritage, incredible cuisine. Most importantly though are the very hospitable, warm and special people who are preparing to adapt to the new business of tourism.
Stressing that the main problem for the region used to be roads, the President encouraged the Government to do their best in dealing with this issue. "The road coming from Mestia is not completed yet - the construction of it will end by the end of this year. Furthermore one road comes from Tsalenjikha along Jvari and brings us directly here. The second is also a very important road - we all must build it together - this road will come from Kutaisi and go towards the direction of Lentekhi. We mustn't have illusion that it will start this year. It needs planning first and we must see if we can attract international credit resources, but in the future we must have these two roads," the President told his team members.
Welcoming the opening of the Svaneti airport equipped with high level of security systems for receiving passengers in any weather, Saakashvili stressed that Svaneti would become a very easy place to reach. Subsidized flights will be conducted daily from Svaneti Queen Tamar's airport which means that the tickets will cost much less of its original price. Explaining there are still many arrangements necessary to tackle the infrastructural issues, Saakashvili stressed that there will be direct flights from every Georgian airport to Svaneti. "I assume that in four years we will host about half a million tourists here but first we need hard work and a special campaign. The rehabilitation process of buildings must finish and the main center must look like the best resorts of Austria or Switzerland," he said sharing his plans for Mestia center.
Ski season in Svaneti lasts from November to May. There is a 9-kilometre highway leading from the Mestia airport to the newly opened 1563-kilometer ski track constructed by Laitner, an Italian Company. The Georgian President was the first to ski down the track with his colleagues. "In addition, we must rehabilitate our historical castles. In Adishi Gorge, in Tetnuldi we shall announce a World tender for construction of a small ecological village. This can be not very expensive and we must make a small ecological village. We shall advertise the project to architects all over the World, and I am sure, many of them will eagerly take part," he said hoping to have the Mestia and the Ushguli complexes in 2-3 years.
Wondering why the private sector is "sleeping" Saakashvili emphasized the importance of hotels for Svaneti with such a long skiing season. "There are always more guests here than there are places to stay. It will be like this during next 20 years. We have a proposal, to declare this place as a free tourism zone - but we aren't doing it here - because it is not right. We will give land to a person for one GEL, basically for free, but we will not free them from paying taxes. It is more than enough! The goal is to start the construction process as soon as possible." Saakashvili said explaining that the potential investors would find "golden bars" in Svaneti.
Summarizing the "unimaginable potential" of the place, Saakashvili said that he would have undoubtedly invested money here if he had at least 2 million he could gain 10-15 million in profit after 5-6 years. "That is why I ask you all to think about it well and do it. Maybe I am not a very big financial consultant and that is why I do not have two million, but actuality we must look at everything through spectacles of multiple lenses. In one part of the spectacles, we see what is there, and through the other part - what will be," he encouraged the businessmen to open their eyes, come here, build and get rich.
Discussing the world financial crisis and the constantly increasing prices on the world market, Georgian President wondered what the Georgian Government has done in terms of the compensation package. According to the information provided by Prime Minister Nika Gilauri the Government discussed several different options among them is the 20-GEL-electrical power voucher which seemed to be the most useful package for the one million active part of Georgian population.
Encouraging his team to do everything to alleviate the pressure from the world crisis, the President of Georgia approved the initiative from Tbilisi Mayor's Office and stressed that not every family needs the 20-GEL voucher but only those in special need. "Everybody has acquaintances, friends, neighbors who live economically and pay, for example, 16-17 GEL for energy per month. If somebody pays much more, and these 20 lari will not make big difference for him or her, a needy person can use it for three months – through the whole winter. In comparison with common prices, maybe this is not a big relief, but it depends on the family and the situation. We must do what we can - not more and not less, but the Government has to express solidarity in these actions," the President stated.
Sharing his concern about the Governmental priorities defined in Svaneti, political analyst Soso Tsiskarishvili said he couldn't hear any news from the President. Wondering why Saakashvili had forgotten to mention the annual surplus of 80 million GEL for Joint Stock Company Telasi, the analyst stressed that this has been another example of the relationship between the Government and Telasi which is against the people. "Telasi didn't deserve this amount, besides it doesn't even plan to reflect this surplus for the future tariff. Thus, the Government of Georgia should decrease the tariff on electrical power rather than distributing "reproached" social vouchers," Tsiskarishvili told
The Messenger
.