"Successful Woman on the Catwalk"
By Salome Modebadze
Wednesday, December 29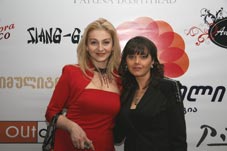 The founder of a modeling agency, Lika Kazbegi presented her 3rd annual fashion show called "Successful Woman on the Catwalk" at Didube Plaza on December 23rd. Sharing the secret of success to the admirers of fashion and style, Kazbegi introduced the guests to 20 beautiful ladies, all successful in their professions. The amazing show was opened with Lika Kazbegi's young models who delivered a wonderful performance which generated great applauses from the guests; while the main participants of the show presented colorful dresses composed by Tinatin Magalashvili, Patuna Bushihead and Ana Changiani.
Teona Dolenjashvili, writer and owner of literature premium Saba was among the successful ladies who shared her feelings with
The Messenger
. Talking of the pleasant times the ladies had experienced during the preparation process, Dolenjashvili thanked Kazbegi for a very interesting idea. Actress Nino Khomasuridze, who was awarded Caesar premium, said she had been given a wonderful opportunity to fulfill her childhood dream and feel as if she were a model for just one day. "I always liked standing in front of the mirror in childhood, but the busy lifestyle has made me become more "manlike". Thus Lika Kazbegi's project has helped me act and feel more like a woman," Director of PR agency PR Office Ge Natalia Zueva told us.
"Successful Woman on the Catwalk" is one thematic project among many others, organized by Lika Kazbegi, who has been unanimously named as "successful woman" by her audience for many years.