From Mtatsminda Park to the Sports Palace: The Spirit of Christmas and New Year
By Salome Modebadze
Friday, December 31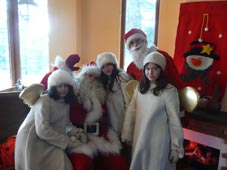 New Year is probably the largest public festival all around the world, including Georgia. The central New Year figure, Santa from Lapland, arrived at Mtatsminda Park on December 25th and received his guests from 1 to 5 p.m. so my traditional New Year journey around the capital Tbilisi started from Mtatsminda, one of the highest places in Tbilisi which is always full of joy. Being aware that there would obviously be a long line in front of Santa's home I went up the hill earlier in the morning because I wanted to meet Santa Claus and share with him my New Year wish.
Bombora, the host of Mtastminda Park and other animated characters from Georgian fairytales greeted the visitors. Santa's apartment was surrounded by children and their parents who expressed their happiness with meeting their much-beloved New Year character and received presents from him. So
The Messenger
went to Santa's home, a bright and small palace with a mixture of Georgian-Lapland decorations. After waiting for our "host" for half an hour, our Santa Claus entered his palace with his young Georgian friends in snowy white dresses. Children took photos with Santa, others told rhymes, smaller children even cried for a while but still, all of them were happy to visit the white-bearded man from the fairytales.
"I came from far Lapland to meet Georgian children and wish them all the best for 2011," Santa told me demonstrating his Georgian New Year congratulation "gilotsavt akhal tsels" which means, "I wish you a happy New Year!" Having left his apartment I felt sorry that I didn't have an opportunity to meet Santa in my childhood, it would have really been something magical!
Everything in the park seemed to be ready for New Year's Eve. Mtatsminda Park, supported by Tbilisi Mayor's Office, has a special proposal for its visitors from January 1. Every owner of an invitation card will have a wonderful opportunity to enjoy any show they like; moreover, the owner of a lucky lottery ticket will win additional 150 bonus points. Entertaining shows like the Puppet Theater, clowns, the Shapito circus, artists from the State Pantomime Theatre, various youth ensembles and the Zura Vadachkoria magic show will all be available for children. Those who enjoy skating on the ice rink can take their skates and join the park for free.
From January 1st Mtatsminda Park will be joined by the Georgian Father Frost (Tovlis Babua) which will also meet children and give them sweets. There are free buses from Rustaveli Avenue apart from the municipal transport ensured by the Mayor's Office, others however can spend their time walking along the New Year villages at Rose Revolution Park and the Sport Palace for fun.