Saakashvili's 7 Years of Challenges, Progress and Criticism
By Gvantsa Gabekhadze
Wednesday, January 5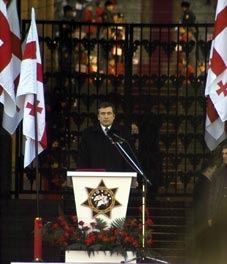 Seven years have passed since the election of Mikheil Saakashvili as the president of Georgia. Attitudes and estimations from different political directions and analysts regards for Saakashvili's 7 years of governance in the country significantly differ from one another. For certain, he is a successful leader and politician, but others consider that within his governance, the country failed to pass the exam of democracy.
After the Rose Revolution in 2003, Saakashvili won the majority of votes in the early presidential elections, which was held on January 4th, 2004. With 96% of votes he was to assume the office of president for next five years. However, the wave of protest movements and opposition demonstrations grew in November 2007, so Saakashvili resigned and appointed another early presidential election.
On January 5, 2008, Saakashvili was elected as president of Georgia for the next five years, this time with 53% of votes.
Based on the fact that the Georgian authorities' past seven years were very difficult and full of challenges for the country, one must realize that Georgia and its leader managed "to overcome significant obstacles and achieve serious goals from an international and internal political viewpoint." As they consider, based on the current political course, Georgia will also manage reintegration of the occupied regions and gain more success in economic and other fields in future.
Georgian oppositional representatives do not ignore these positive changes in the country, but they do think that Saakashvili, as a leader, failed in achieving the most serious goals for the country, "He could not manage to avoid the occupation of our territories, on the contrary , he was making some provocative statements," Manana Nachkebia, From New Rights told
The Messenger
. She also compared the present situation, specifically the protection of human rights, to 1937, "Serious mistakes have been made in respect to the rights of Georgian citizens. I can compare the period to 1937, when the Bolsheviks killed all the people who they disliked." As for the main achievements of the current President, "The development of the country infrastructure, annihilation of bribe taking at lower levels, and reforms in Interior Ministry can be named as some basic achievements."
The President, who came to power in the name of democracy failed to pass the exam of democracy, one of the leaders of the Labour Party, Nestan Kirtadze stated for The Messenger, "This period has been very difficult for the country and for President Saakashvili. We should not forget that he came to power during the revolution. There are no good and bad revolutions; they are evaluated by their outcomes. The president and his team, which came to power in the name of democracy failed to fulfill their main promises; the formation and development of democratic institutions in the country and the protection of the country's sovereignty and territorial integrity," Kirtadze said while mentioning that her words are backed by international researches.
Political analyst, Nika Chitadze, could not see the current leader's fault in losing the Georgian territories, "There is significant achievement in fighting against corruption in the country, the state budget has been increased, and the GDP is also increasing from year to year. Georgia has managed to restore its governance in the Adjara region and at the same time, the situation has been normalized and stabilized in another quite difficult region of Georgia, Javakheti. Achievements can be seen in the fields of state administration and infrastructure," Chitadze told The Messenger. He also mentioned the main shortcomings of the past seven years, "There are people who frequently point out that the current authorities and the president are guilty of losing Georgian territories; however I can not see their fault in this, as no one would be able to dispel such powerful rival, as Russia. The main negatives of the past seven years are unrealized reform in the court system, and the pressure on business from the authorities' side, which still takes place along with nepotism in state structures."