Residential houses in Akhalgori become communal property, locals report
By Mzia Kupunia
Wednesday, January 5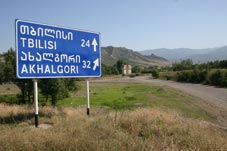 The living spaces of all residential houses in Akhalgori have become de facto South Ossetian property,
Interpressnews
agency reported, based on the information provided by the local population. "All flats in the residential houses have become communal property. We do not know what is going to happen to those apartments where nobody currently lives," Akhalgori residents told Interpressnews.
The report by the Akhalgori population follows a decree of the de facto South Ossetian President, Eduard Kokoity on abolishing Georgian normative acts in the region. The decree, signed on December 7th aims at "regulating disputable living spaces" in Akhalgori, according to the de facto South Ossetian officials.
"As a result of Georgian aggression, causing the occupation of a significant part of Leningori [Akhalgori] region, the population of Ossetian origin had to flee. Their living spaces have been either appropriated, looted, or burnt down," de facto President's administration stated "The President has ordered the termination of judicial power over documents issued by the Georgian government from 1991 to 2008 about living space and pieces of land on the territory of Leningori [Akhalgori] territory," the statement says.
According to Kokoity's decree, until the property rights on the living spaces and pieces of land in Akhalgori region are defined according to the so called South Ossetian legislation, the living spaces situation on the territory of Akhalgori will be declared as state property of the de facto Republic.
Tbilisi has condemned Kokoity's decree, assessing the document as "illegal." The Georgian Foreign Ministry has linked the decree with Moscow's "...obvious attempts to conduct a new stage of ethnic cleansing on Georgia's occupied territories through the puppet regimes." "This fact will further deteriorate ethnic tensions in Akhalgori region and have a negative influence on Georgia's and the international community's attempts to stabilize the situation in the region," the Georgian MFA stated. In its statement, the Ministry has accused Russia of "violating its international commitments" and has called on the international community to condemn "this fact of violating the rights of ethnic Georgians in the occupied Tskhinvali region."
Like the Georgian Foreign Ministry, the Georgian MPs have also suggested that the initiative "belongs to the Kremlin." Chairman of the Parliamentary Committee on International Relations, MP from the ruling National Movement Party, Akaki Minashvili said Kokoity "is not a person worth making any comments about." "His decree is merely a piece of paper and not a legal document," the MP stated, adding that the Georgian officials are "actively working with the diplomatic corps in order to defend the Georgian population living on the occupied territories."