Ilia the Second Celebrated His 78th Birthday
By Salome Modebadze
Wednesday, January 5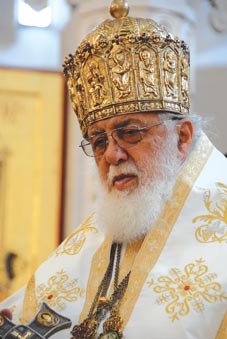 His Holiness and Beatitude, Catholicos Patriarch of All Georgia, Archbishop of Mtskheta-Tbilisi, Metropolitan of Bichvinta and Tskhum-Abkhazia Ilia the Second celebrated his 78th birthday on January 4th. Spiritual and public figures, politicians, children and their parents visited the Patriarchate early in the morning to wish His Holiness all the best for his birthday. Special services were held at Georgian churches and a concert at the State Conservatoire Hall was also dedicated to the 78th anniversary of His Holiness, where musicians performed classical music and choirs sang spiritual compositions so that everyone was filled with love and care towards Ilia the Second. "It is important that our people have strong spirits, we are all standing together so that neither internal nor external enemies will defeat us," His Holiness told the guests wishing everyone a Merry Christmas and a Happy New Year.
Head of the legal Abkhazian Government Gia Baramia, wished health and long life to Catholicos-Patriarch and highlighted the great merit of His Holiness to God and the people. "Georgian people are part of a happy nation and lucky to have such a merciful spiritual leader which has been the ray of hope for all of us in any danger. Georgians have never lost their trust towards His Holiness who has been carrying the cross of his nation for all these years," Baramia stated. Talking of the importance of His Holiness for the Georgian people, the Labor Party expressed their gratitude to God for giving them the opportunity to live in the epoch of Ilia the Second "who has revived the spiritual life in our country." Georgian Party also emphasized the great merit of His Holiness in preserving the spiritual firmness and national values in their congratulations and hoped that His Holiness would still play the leading part in consolidating the Georgian people in future.
The spiritual leader of Georgian Orthodox Church was born in Vladikavkaz on January 4th, 1933. Becoming a monk in 1957, His Holiness continued religious studies at Moscow Spiritual Seminary. Having graduated from the seminary, the young monk returned to Georgia where he traveled a long way to become patriarch. It was in December 25th, 1977 when he was titled as Catholicos-Patriarch of All Georgia Ilia the Second. His Holiness has been prominent in his merit for spiritual development of the Georgian people. Being the President of the council of world churches from 1978-1983, Ilia the Second received the special award of the Doctor of Theology by the New-York Spiritual Academy. Lots of spiritual seminaries have been established throughout Georgia under the spiritual leadership of Ilia the Second, and the number of church eparchies increased from 15 to 37. New saints have been canonized and what is most significant – the greatest Trinity Cathedral was built. All of Georgia asks His Holiness for blessing and wishes him good health.