Kidnapped Georgian sailors contact their families
By Mzia Kupunia
Tuesday, January 11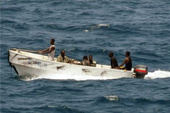 Georgian sailors kidnapped by Somali pirates have had contact with their families for the first time in one month, Georgian media reported on Monday. Members of the sailors' families have informed journalists that the situation on the ship has become "critical". "It has been five days and the sailors have not been given food or water and they are being severely beaten every evening," Sergo Devadze, father of one of the kidnapped Georgian sailors said. He added, "The situation is so tense that the confrontation between the sailors and pirates might even end in a murder."
The ship sailing under the flag of Malta, with 18 sailors on board – 15 Georgian and 3 Turkish citizens, was kidnapped by Somali pirates on September 8, 2010 in the Straits of Aden. According to the Georgian President's Administration, the pirates demanded a ransom of USD 15 million in return of freeing the sailors and in October, the President's press speaker, Manana Manjgaladze said, "There are no plans to conduct a special operation to free the kidnapped sailors until all possibilities of dialogue have expired"
Georgia is in constant contact with the company which owns the kidnapped ship, Georgian Deputy Foreign Minister, Nino Kalandadze said on January 10. Speaking at the usual Monday press briefing, the Deputy Minister noted that the Georgian side has "neither the possibility, nor will to be involved in any negotiations with the terrorists."
"We are talking with the owners of the ship and their advocates. They are currently finding out the details with their insurance company," Kalandadze noted "According to the information we have, the owner of the ship is ready to pay some money, however the figure is less than the pirates have demanded, so the negotiations are continuing," she added.
A special campaign to raise funds to help free the sailors kidnapped by Somali pirates was held in Georgia. The campaign included a charity concert held in Tbilisi on December 9, as well as special fundraising campaign actions at four metro stations in the capital. In addition, people willing to help free the sailors were able to transfer money to special bank account or call special numbers from different mobile operators. The money raised during the campaign was transferred to the Solidarity Fund, according to the Chairman of the Sailors' Professional Union of Georgia, Anatoli Chijavadze.
Meanwhile the families of the kidnapped Georgian sailors have announced plans to hold a protest rally in Batumi at the Adjara Supreme Council building with a demand to free them.