Technical error kills 3
By Gvantsa Gabekhadze
Wednesday, January 12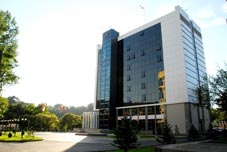 The Ministry of Defense released a special statement yesterday confirming that 3 soldiers were killed and 13 injured during an explosion at the Ministry of Defense's Krtsanisi National Training Centre on the outskirts of Tbilisi, on January 11.
"A blast from a 120 mm mortar was supposedly caused by a technical error during exercises," the Defense Ministry said. "The Military Police and General Inspectorate of the Ministry of Defense have already started investigation of the case," reads the official statement of the Ministry.
The injured soldiers were hospitalised in Rustavi, close to the Krtsanisi training centre. According to the chief doctor at the hospital, Papuna Bakhtadze, "12 injured soldiers have been brought to the hospital. The condition of eight of the soldiers can be considered stable; the other four soldiers' condition is serious." (Some time later, the latter four soldiers in a serious condition underwent operations. The names of the killed and injured soldiers have not yet been announced).
The President's spokesperson Manana Manjgaladze gave a special statement concerning the issue, "The President is personally interested in clarifying the reasons behind for the accident as soon as possible. We offer our condolences to the families of the killed soldiers." She mentioned that President Saakashvili received the information on his way to the United States, where he will attend the ceremony for Richard Holbrooke (the special adviser on Pakistan and Afghanistan, working under President Barack Obama and Secretary of State Hillary Clinton, who died on December 13, 2010). Ms. Manjgaladze emphasised that the state will take responsibility for the killed soldiers' families. The state will also cover the treatment costs of those injured and funeral expenses of the killed soldiers.
The opposition party Our Georgia-Free Democrats have appealed to the authorities to investigate the issue timely for "such tragedies to be avoided in future". The Party members offered their condolences to the families of the deceased soldiers. The same appeal was voiced by the leader of the movement 'Solidarity to Illegal prisoners', Eka Beselia, who said, "The opaque and closed policy of the Defense Ministry reveals many questions regarding the institution. Society should know more about the processes in the Ministry. An investigation must be carried out transparently, firstly for the killed soldiers' families and then for the Georgian public to receive detailed information about the accident."
Military analyst and editor-in-chief of military – analytical magazine Arsenali, Irakli Aladashvili stated for
The Messenger
, "In general, these kinds of accidents take place during military training when explosive weapons are used, not only in Georgia, but in other countries as well. Such accidents are not very frequent but unfortunately they do occur. The accident might be the result of a number of reasons; for example placing of two shells in the barrel. In this case an internal explosion takes place, causing the accident, however, there are defense mechanisms against this; a military aggregate has that system. Maybe in this case, that aggregate was used without the defense mechanism. It is difficult to make detailed comments as the official statement of the Defense Ministry gave little information of the facts, only saying some kind of technical mistake occurred." He added that, "as for the responsibility of the issue, it is difficult to say at the present moment, the investigation should reveal the reasons foe the explosion."