Vladimir Sanakoev speaks up about his ties with KGB
By Messenger Staff
Wednesday, January 12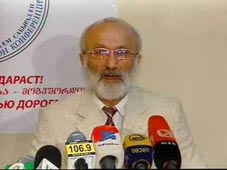 Former member of the Tbilisi-backed Provisional Administration of South Ossetia, Vladimir Sanakoev announced his alleged cooperation with the Russian special services, reported the Kavkazsky Uzel internet portal. According to a blog post published on the website on January 10, Sanakoev held a special "improvised" press conference in Vladikavkaz on Sunday and "confessed" his activities.
According to Sanakoev, he started cooperating with the Russian KGB in 1989 under the pseudonym of "Iron", meaning "Ossetian." The former ally of the Georgian authorities said he and a Russian Special Agency representative "Roman" drew up a plan of his "getting involved in the processes going on in Georgia" in 2003. Sanakoev noted that with this aim he published an article on his views about Georgian-Ossetian relations. "The article was clearly pro-Georgian, in order to win the trust of the Georgian government representatives," he noted, adding that his activities had "worked".
Speaking at the "improvised" press conference, Sanakoev accused Georgian high ranking officials, including President Mikheil Saakashvili, Minister of Internal Affairs Vano Merabishvili, former Defence Minister Irakli Okruashvili, Chairman of the Defence and Security Committee of the Georgian Parliament, Givi Targamadze and other officials of being linked with terrorist acts carried out in Russia.
Later in his speech Sanakoev touched upon the developments of events after he received Georgian citizenship in November 2005, saying that the aim of all of his later actions was "not admitting the start of military actions in South Ossetia." He added, "Later Dmitry Sanakoev appeared in Tbilisi and on November 12, 2006 the elections of the head of the Provisional Administration of South Ossetia was elected. Thus we managed to avoid Georgian military aggression which was planned for December 2006, the aim of which would be restoring Georgia's jurisdiction over South Ossetian territory."
Georgian Parliamentary majority representatives assessed the statements of Sanakoev as "not serious." "As for his assertions that through his efforts the Georgian side did not start military actions in Tskhinvali, this is just one more argument that the war of 2008 was not started by Georgia," MP Shota Malashkhia, Chairman of the Temporary Parliamentary Commission on Territorial Integrity Issues said.