Saakashvili on Georgia's NATO prospects
By Mzia Kupunia
Thursday, January 13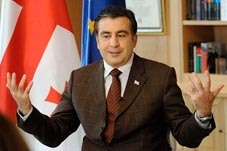 Georgia's entry to NATO is just a matter of time, Georgian President, Mikheil Saakashvili said. According to newsru.com, Saakashvili was speaking to Ukrainian TV Company 5th Channel.
"Georgia's becoming a NATO member state is inevitable, because integration in the alliance is necessary for the country's national security," Saakashvili said. In order to survive, it is necessary for us to have at least a minimal guarantee of security. It is a very obvious issue for us and nobody will object to this," newsru.com quoted him as saying.
Speaking to Ukrainian journalists, Saakashvili pointed out that Georgia has "no hostile intentions" to any other state. "Of course small Georgia cannot attack anyone, especially its big neighbours - it would be a peak of unwiseness," the President said.
In an interview Saakashvili touched upon the Georgian-Russian relations, saying that Russian troops, controlling Abkhazia, are not letting "the people with incorrect citizenship",including the ones who used to live in Abkhazia, enter the Abkhazian territory.
"Only 20 percent of the population, who lived in Abkhazia before the conflict, is living there currently. This is less than 100 000 people. Occupational forces are not allowing admission to not only a president, but any other citizen of the 'wrong' origin," the Georgian president noted, adding that "wrong ethnic origin" means Georgian, Ukrainian, Greek, Estonians and Jews "and everyone who used to live there, including part of Russians and part of Abkhazians."
"They just composed a list of the people who should not live there-these are the people who were born there, who were attending school there, the people whose parents are buried there. Instead of these people there should be foreign troops in order to control this occupied territory so that the people do not return to their homes. This is a Berlin wall," Saakashvili stated.
South Ossetia is almost left without a population, the president noted. "When troops entered South Ossetia and declared that they were there to free Ossetians, a big amount of Ossetians, the absolute majority of them fled to those regions of Georgia, which are controlled by the Georgian Government. This was natural, because this was their country, their government and they were seeing us as their defenders," Saakashvili stated.